Since its discovery, gold has become deep-seated within many cultures across the world. Valued as a currency, a commodity, or simply for its visual beauty, gold has remained a store of value for thousands of years. Now revered as the world's most precious commodity; gold's scarcity, uses, and proven performance, all help make gold the ideal investment.
Gold Demand & Supply
The demand for gold can be broken down into four core categories- jewellery, investment, technology, and central banks. Gold demand has been growing steadily in recent years, as continued volatility has driven investors towards the safe-haven asset of physical gold. Key economic drivers like the trade war between the US and China, growth slow-down globally, and Brexit in the UK specifically, have all contributed to gold price gains in the past three years.
Register an account with GOLD.co.uk, experts in gold and silver bullion.
By registering you can:
Over the past 10 years there has been a clear upward trend in gold bar and coin purchasing for investment purposes. After the gold price fell between Q4 2013 and Q4 2015, 2016 saw a dramatic increase in the gold price and, consequently, investor demand for gold. ETF inflows reached near-record levels, contributing to an overall year-on-year net change of +92.9 tonnes, despite a significant fall in jewellery demand in India and China. Indeed, the two are likely linked. Low jewellery demand in China was driven by a slowing economy, contributing to increased safe-haven investment demand for precious metals elsewhere.
Gold demand was up in 2018 to 4,345.1t, an increase of 185.2t over 2017, and has continued to rise in 2019. Demand has been lifted by central banks, which had a six-year high for Q1 gold purchases. Global demand is up 7% year-on-year and grew by 1,053.3 tonnes for the first three months of 2019.
.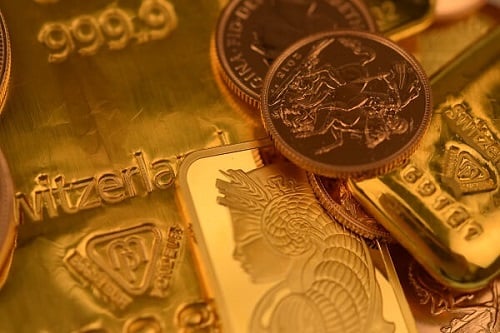 .
Gold Price
As of August 2019, the price of gold has been soaring in Sterling, beating the previous 2011 record, and passing the £1,200 per ounce barrier. The chances of a no-deal Brexit have increased significantly since Boris Johnson became Prime Minister. The US-China trade war has remained unresolved, and escalated further. Tensions with Iran, Russia and North Korea continue to simmer, and markets are wary of the growth slowdown occurring in most global economies.
.
Gold Investment Demand
Demand for gold amongst investors has increased steadily in recent years, and Q1 has shown demand growing further. In the UK, demand increased an impressive 58%, as the original March deadline for Brexit loomed. Globally, gold demand rose 12% - fuelled by countries such as the US, Iran, Turkey and India.