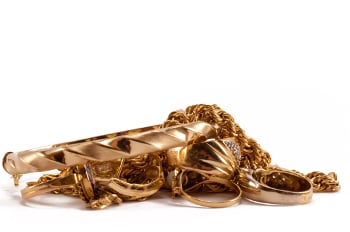 We buy scrap gold for up to 95% of its spot value, giving you excellent value and a great customer experience.
Selling us your scrap gold is quick and easy:
Call us on

0121 369 3000

to fix a price based on the current gold spot price, the weight of your scrap and its purity.

Send your scrap to us via Royal Mail Special Delivery, making sure that it is packaged securely and discretely.

We will pay you within 3 working days by Bank Transfer.
If you live locally, or simply prefer to do business in person, you can come and visit us at our office right in the heart of Birmingham and sell us your gold over the counter.
Scrap Gold Prices
We buy 9ct, 14ct, 18ct, 22ct and 24ct scrap gold. If you know the weight and fineness of your gold and wish to know how much it is worth right now, you can use our scrap gold calculator to find out. Enter the fineness and weight, in grams, into the calculator below to obtain a quote.
Scrap Gold Price Per Gram (£)
Swipe left on the table if you cannot see the data.
Scrap Gold Price Calculator
We base our prices on the live spot price, updating them every 2 minutes in line with the price of gold, ensuring that you will receive a fair and accurate valuation for your scrap gold.
The carat rating refers to the fineness of a piece of gold jewellery, 9 carat being the least pure, containing 37.5% fine gold and 24 carat being as close to 100% as possible. The value of a certain carat gold is therefore worked out as a percentage of the spot price per gram, ounce, or kilo.
We will accept hallmarked gold jewellery such as rings, chains, bracelets, necklaces, pendants and more as well as gold medals and gold nuggets.
However, we do not buy gold watches, plated gold, or non-hallmarked jewellery. For more information, call us on 0121 369 3000.
If you are looking to sell gold bars or gold coins, click here. We will pay up 98% of the spot price for bullion bars and coins.
The process involved in testing gold's purity can sometimes involve cutting the metal and the removal of stones. Should the jewellery not match the specifications, we will recalculate its value or return your items to you- however, the jewellery will return damaged.
If you wish to visit us in store, we are open Monday to Friday from 10am to 4pm. Click here for directions.
Open Account Today
Order online 24/7. Receive price alerts, stock notifications and track the live status of your orders.