The Royal Mint reveals special 15kg Platinum Jubilee gold coin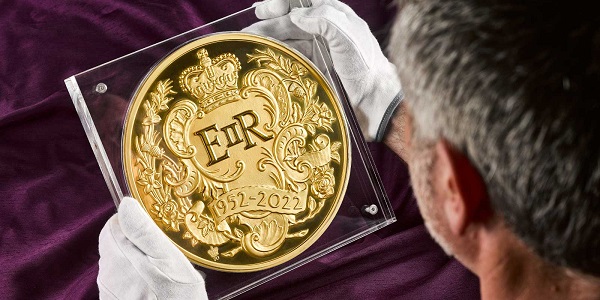 The Royal Mint has unveiled a single issue gold coin, the largest ever produced by the mint, to commemorate the Queen's Platinum Jubilee next week.
The gold coin is a huge 15 kilograms in weight, dwarfing anything ever produced by The Royal Mint before. It was commissioned privately for an unnamed UK collector, with the design reportedly approved by The Queen herself.
Clare Maclennan, Divisional Director of Commemorative Coin at The Royal Mint said: "The largest coin ever made by The Royal Mint, it is a unique piece of art that will endure as a legacy of the occasion for generations to come."
Look. At. This! This is a 15kg gold coin made to celebrate Her Majesty The Queen's #PlatinumJubilee. It's also the largest coin produced in Royal Mint history! How long did it take to make? Not long, just 400 hours! @RoyalFamily pic.twitter.com/N7uQ1Gyou9

— The Royal Mint (@RoyalMintUK) May 25, 2022
According to the press release from The Royal Mint, the coin took 400 hours to make and refine. Usually coins are struck between two dies, resulting in a pressing, but for a coin of this size The Royal Mint had to cut into a larger gold block with a milling machine and then hand-craft the coin's design features.
Both the obverse and reverse designs are by artist John Bergdahl and there is an added privy mark of the St Edward's Crown – worn by Queen Elizabeth II at her coronation 70 years ago. It has a diameter of 22cm, is 24 carat/.999 pure gold, and is produced to a proof finish.
Despite its huge size, the coin is still some way short of the 1 tonne weight of The Perth Mint's record-breaking 'Red Kangaroo' gold coin – currently on display in the mint's HQ and museum.