Precious metals climb as central banks hike interest rates
Gold and silver have both risen in the past 24 hours following interest rate decisions from the Federal Reserve and Bank of England. Gold in GBP is up more than 3% today, with silver doing even better up 4%.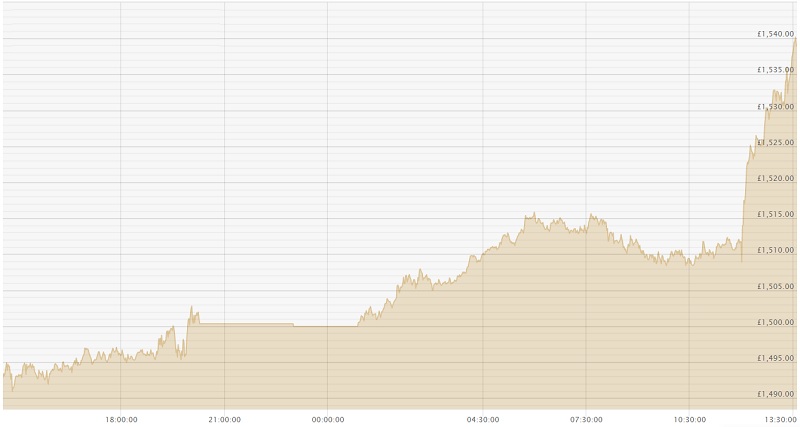 As expected by most analysts, the Fed increased US rates yesterday to a range of 0.75% and 1%. The 50 basis-point rise was the largest since 2000 for the US, and is intended to be the first of several hikes in an attempt to bring down America's 40-year high inflation.
Fed Chairman Jerome Powell made it clear that more rises were to be expected in the coming months, saying "additional 50bps increases should be on the table at the next couple of meetings." This would see US rates climbing to 2% or higher by the end of the year, something that seemed unthinkable just last year considering the Fed's insistence that inflation was transitory.
Markets had expected even larger rate rises in future meetings given the apparent acknowledgement from the Fed that rates are not high enough at their current levels to combat inflation. Powell's speech makes this seem unlikely however, and highlights the concern central banks have on raising rates too quickly. US GDP already declined in Q1, and with prices rising so quickly consumers will inevitably reign-in spending, further dampening growth.
In the UK the BoE also hiked rates, at a slower pace of just 25bps to 1%. Three of the Bank's policymakers voted for a larger increase to 1.25% however, feeling rates need to rise quicker to stop inflation becoming embedded.
Concerningly, the BoE also revised their inflation forecast to hit 10% before the end of 2022, a 40-year high for the UK. The Bank also warned that the UK economy is forecast to contract in Q4 2022, putting it on the first step towards a possible recession. Inflation at 10% and GDP falling would mean painful stagflation, serving only to worsen the cost-of-living crisis facing many.
The BoE's announcement saw Sterling slump below $1.24 for the first time in nearly two years as markets continue to price-in the weakness of the UK economy. With much of the inflationary drivers based on supply shocks like energy and food prices, it remains to be seen if the BoE can have much impact on inflation, and today is unlikely to be the last increase for interest rates in 2022.
Gold is currently trading at $1,901/£1,537 per ounce, while silver is at $23.02/£18.61 per ounce. Interest rate rises would typically see weaker prices for gold and silver, but markets seem to agree that central bank actions are too little too late, and that the economic volatility started in 2020 is a long way from over just yet.