UK economy contracts in April – recession on the cards?
The latest data from the Office for National Statistics shows the UK economy shrank by 0.3% in April, following a smaller contraction of 0.1% in March.
The ONS report shows that services, production and construction were all hit with contractions in growth for the month, with a breakdown of the reasons why including the ending of the free Test & Trace system, supply chain shortages, and a completion of building repair work after February's storms.
The combination of these three big sectors being in a negative direction was last seen in January 2021, with the pandemic still in full flow, so it's no surprise that Prime Minister Boris Johnson has already spoken to national newspapers (image below) warning of stagflation and that wages won't be allowed to spiral out of control.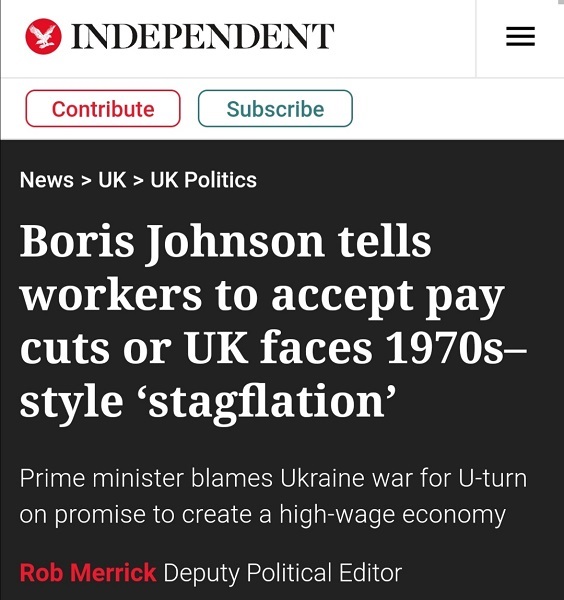 The problem the PM faces is that wages are indeed rising, but typically not at a rate bettering or even matching inflation – something The Week (sister to MoneyWeek) recently had David Spencer, professor of economics and political economy at the University of Leeds, expand on in a feature article.
This is why there is a cost of living crisis, but it seems like there will be no end to the ongoing inflation given the interruptions to supply chains due to Covid and to energy/food supplies because of the war in Ukraine. Ultimately the damage will take time to undo, but the Bank of England will be expected to lessen the impact upon the public, with talk of forcing a deliberate recession.
This leads us to the minutes of the latest Monetary Policy Committee meeting which are released tomorrow, and will confirm if interest rates will rise and by how much – 0.25 percentage points again or a larger 0.5 percentage point jump? The latter could be the catalyst to achieve such a recession, by knocking the public's spending on the head and giving the economy a chance to catch its breath; a risky tactic in uncertain times but arguably innovative thinking.
As for what the future holds, the British Chambers of Commerce had already issued its forecasts for this year and the next two; 3.5% for 2022, 0.6% for 2023, and 1.2% for 2024. How accurate these are given the current trend of negative GDP growth is hard to say, and the BoE's behaviour tomorrow will likely force fresh forecasts in the coming weeks.