Gold and silver firmer as US inflation hits 40-year high
Gold and silver have both seen gains this week following fresh inflation data from the US. This week's figures showed CPI for December hit 7% year-on-year in the US, the highest number in 40 years.
Despite the worryingly high figure, stock markets seemed to have priced the rise in. The main US indexes took the 7% CPI figure in their stride, rising as the week has gone on, despite the likelihood for consumers to begin reigning in spending.
The high inflation also increases the likelihood of interest rates to be increased by the Federal Reserve as early as March. Despite this however, the Dollar fell to a two-month low against a basket of currencies on the news.
The Dollar's weakness was to the benefit of precious metals, however. As seen in the chart below, gold has enjoyed steady gains throughout the week in USD. From a low of $1,783.15 per ounce last Friday, gold has now risen to a high of $1,828.43 so far this week, a gain of 2.5%.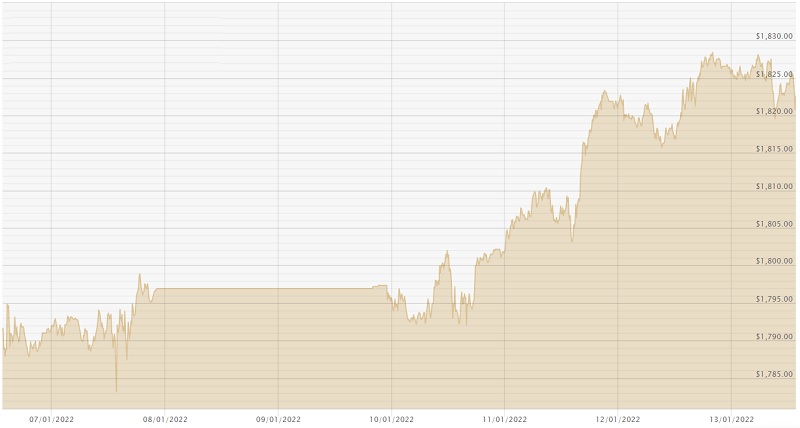 Silver has performed even better, from a low of $21.97 per ounce, to a peak of $23.29 per ounce this afternoon, an impressive 6% increase. For silver especially, the gains come at a good time, helping to end a recent slump since November of last year.
Here in the UK, Sterling is one of the currencies benefiting from the weaker Dollar, reaching a two-month high. The Bank of England have given the Pound a leg up on the Dollar with their December interest rate rise, and despite the Plan B restrictions in place to slow the spread of Omicron, traders seem content with the Pound for now.
The stronger Pound however has kept gold and silver subdued this week. Gold is nearly flat for the week at roughly £1,325 per ounce. Silver however has managed a 4.4% rise, and is nearing £17 per ounce.
Analysts are hopeful that inflation may be peaking, with some supply lines showing signs of improvement. Wage inflation, energy bills and any potential further restrictions however could threaten more price rises to come, and consumers will be hoping for prices to fall let alone stay at current highs. If inflation is sustained for much longer a real cost of living crisis could face both the US and UK.