Oil just shy of $100 per barrel as Russian troops enter Ukraine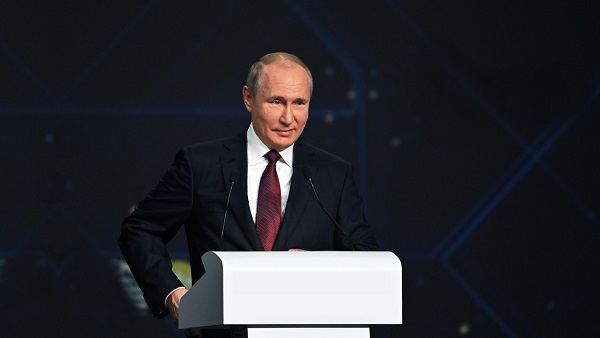 President Vladimir Putin of Russia, pictured last year in Moscow.
Brent crude has peaked today at just over $99 per barrel following last night's mobilisation of Russian troops into eastern Ukraine on what Russian president Vladimir Putin described as a "peacekeeping" mission.
In a speech to Russian television from the Kremlin last night, President Putin declared support for two breakaway regions in south-east Ukraine – Luhansk and Donetsk – which had earlier on Monday declared their independence as people's republics. This comes after days of Russian military mobilisation near the Ukranian border and complains from Moscow that NATO were the instigators of aggression in their attempts to bring Ukraine into the fold in a West vs East throwback reminiscent of the Cold War.
President Putin claims troops are in these two regions as peacekeepers, and so far the limited movement in the gold price shows patience from investors as they wait to see what escalation may occur. Gold is currently $1,896.60 per ounce, having passed $1,900 briefly within the last week. In the UK, gold is just shy of the £1,400 milestone for the first time since the first week of January 2021, with the metal worth £1,398.13 per ounce.
European leaders such as Germany's chancellor Olaf Scholz and Lithuania's Ingrida Šimonytė have condemned Russia's actions, with Germany halting their certification of the Germany-Russia Nord Stream 2 gas pipeline – a blow to European consumers hoping for a return to lower energy prices in the near future.
The Russian Rouble dropped in value this morning, as did the country's Moex Index – down 5% on opening. Big fallers in the UK have been Russian firms too, with the Petropavlovsk gold miners taking a hit on the FTSE 250 today.
Brent crude is currently $98.04 per barrel and the European markets have been engaged in a game of seesaw, dipping from red to green constantly this morning. Asian markets suffered overnight without knowing Europe's reaction to the news, and the US markets this afternoon will give a better gauge of how seriously investors – and their connections – feel Russia's actions are in the grand scheme of things. Some analysts are predicting that Ukraine will be armed by NATO nations to defend its sovereinty versus Russia, whilst a minority are hinting at World War 3.