Gold and silver rising on growing tension in Europe
Gold and silver have both kicked off the week with further gains on growing tension over Ukraine and Russia. Increasing rhetoric and warnings of a potential invasion have spooked stock markets, and spurred safe haven buying from investors.
After an already strong previous week, Friday evening in particular saw quick gains as the US, UK, and other nations withdrew embassy staff from Ukraine and advised citizens to leave as soon as possible.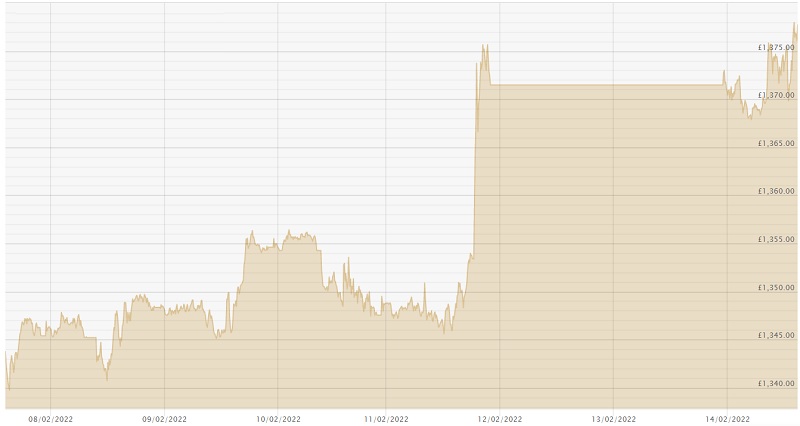 Despite continuing diplomatic efforts from all sides, Russian troops have been amassed on the Ukrainian border, and progress seems minimal so far. Stock markets around the world fell Friday evening, and have continued to do so on open this morning.
Markets are of course concerned of any military action in Europe, but also of severe financial sanctions being threatened by the US, UK and EU. Oil and gas prices have already risen in response as markets price in Russian supplies potentially being cut off. Following months of severely high energy prices, any further rises will only push inflation higher. Hawkish central bankers are already beginning to raise interest rates, despite the risk of slowing growth and hurting stock markets.
Gold is currently trading up at £1,376 / $1,863 per ounce, a near three-month high in both currencies. Conflict often sees gold rise quickly, as many investors will no doubt remember in early 2020. The bombing of an Iranian General and subsequent tensions between the US and Iran saw gold quickly climb almost 10% in January 2020.
Silver has risen to £17.67 / $23.91 per ounce so far today, brining it back to levels seen three weeks ago. Silver is expected to be a more mixed bag should tensions escalate. While investment demand would likely rise, silver's industrial demand could fall, depending on the nature of any sanctions and the knock-on impact they have economically worldwide. In GBP however, it is already up more than 4% in the past week and could see further gains in the days ahead.
For now, markets are on alert, watching for any fresh news of diplomatic efforts. The UK government have warned of 'serious preparations' for an invasion by Russia, but talks continue today. For gold, $1,900 per ounce will likely prove a key level to watch. There will likely be resistance as the price nears that mark, but if breached there could be quick and significant gains to come for the precious metal.