UK inflation sees largest rise on record
By Michael Pinson, News Editor
15 Sep 2021
The UK's CPI figure has posted the largest rise on record today. Prices in August rose by 3.2% according to the Office for National statistics, up from 2% in July.
The ONS clarified that the rise is seen as an outlier, and as a year-on-year indicator is being impacted by last years 'eat out to help out' scheme. The discount on restaurant dining last summer has exaggerated the rises this year, as seen by the large spike in restaurant and hotel prices in the chart below.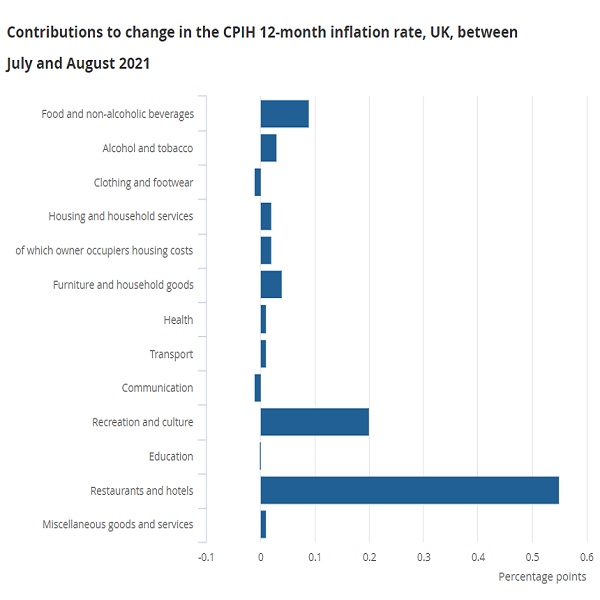 Despite the base effect of the scheme however, price pressures are undoubtedly rising, and analysts warn that UK inflation could climb as high as 4 – 5% by the end of 2021. Energy prices in recent weeks have soared to all-time highs, resulting in the closure of several smaller energy suppliers who are currently unable to put prices up due to the energy bill cap.
Workers who have enjoyed wage increases are finding their money swallowed up by rising costs at supermarkets, shops, and petrol pumps. When the energy cap is next reviewed, they could also find themselves faced with soaring energy bills.
Data from the US this week also showed inflation remains high, with CPI at 5.3% year-on-year to last August. With July's figure at 5.4% some analysts are hopeful that inflation may be peaking, but with such a small decrease and at such high figures, it is likely small comfort to consumers if prices continue to rise at these kind of rates.
Markets have once again been mixed in their reaction. Inflation stabilising could lend some credence to the Fed's transitory narrative and give them a little longer to hold off on tapering. Stock markets have been weaker in trading so far this week however, on fears over the global economy slowing down.
Retail sales and industrial production both saw large falls in August from July's figures. Chinese ports have been closed by both bad weather and outbreaks of the delta variant, while local lockdowns have been introduced while the country continues to stamp out any covid cases. The Chinese government also continues to bring in tighter regulations for tech and finance companies, adding uncertainty to its market.
With the UK also bracing for potential restrictions as part of the government's "Plan B" for the winter, and several US states struggling to treat hospital patients, China is not likely to be the only country with an economy impacted by covid in the months ahead.
Gold has seen a small uptick in price from the US inflation figures, rising once more above $1,800. Precious metals are still waiting on investor sentiment to turn in either direction, and requires a spark for the next big rally.