Coin hoard found in Norfolk dubbed largest Anglo-Saxon find
A hoard containing an incredible 131 gold coins from the Anglo-Saxon period of England, has been officially declared a treasure, and is the largest find of coins from this period.
The collection has been found in Norfolk across a period of over 30 years, before finally being declared part of a single collection by the coroner recently.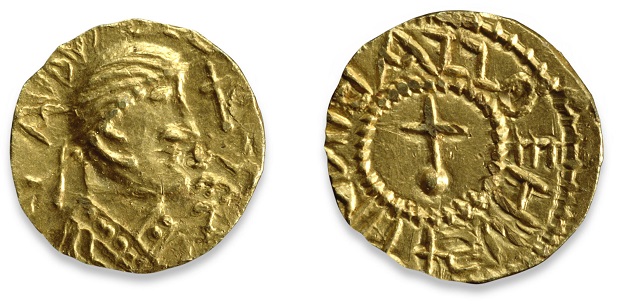 A gold tremissis, similar to those found in the hoard. Image courtesy of the British Museum.
The coins have a somewhat troubled story, with the majority being found and correctly reported by a metal detectorist who has chosen to remain anonymous. 10 of the coins however were found and illegally sold by a police officer.
Despite having an arrangement with the owner of the field, they were left unreported to the coroner and sold for £15,000. The officer was dismissed from his job and jailed for 16 months as a result of the crime.
The hoard now totals 131 gold coins, all believed to originate from around 600AD, making it the largest find since a purse of 101 coins was found in 1828. The recent find appears to be linked to the now famous Sutton Hoo discovery, and some of the coins even look to have been struck at the same mint, using the same dies.
Coin minting in England at the time was sporadic, carried out by individual mints on behalf of the rulers of the time, and gold coins were not minted regularly, as would become common in later years. Most of the coins found in Norfolk instead originate from the Byzantine Empire and the Merovingian Kingdom of France.
A number of the coins were of types previously unseen by numismatic experts, and make for an exciting find to help further the knowledge of coinage in a still very uncertain period of history. Other gold items, such as a bar and pendant, were also found as part of the hoard, and would have been a collection of significant wealth to the owner.
Norwich Castle have already expressed interest in the collection, and it is sure to go down among the great finds with the aforementioned Sutton Hoo discovery, and the Staffordshire hoard as a key part of England's history.