15-month low for growth in US factory output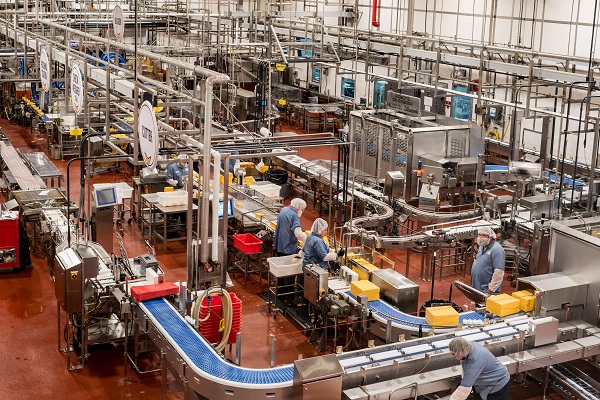 A cheese production line at the Tillamook creamery factory, Oregon, USA.
It's that phrase again – supply chain problems. The United States has reported the slowest levels of growth in factory output of the past five quarters, with a lack of transport, drivers, shipping containers, and port staff all combining into a perfect storm of delays.
As a result, import costs have shot up, and these costs are now being passed on to consumers. According to IHS Markit and their most recent Purchasing Manager's Index (PMI), this is the fastest price raise on record from US manufacturers.
Shipping specialists Maersk told reporters this week that between the gas price rises and the staffing issues mentioned above, container ships are sat idle across the globe – with chief executive Soren Skou describing international trade as now being "one gigantic bottleneck".
The current issues can't last; incentives will become inevitable for the training and employment of both drivers but also port/dock staff. The backlog will pass and normality will resume. The issue for the public is how long this takes, and to what extent it impacts life. Some things, like Walkers announcing a narrowing of its varieties of crisps due to shortages, is an unfortunate but manageable loss. The risk however is when things like medication and childcare products get blocked up by this bottleneck too.
Consumer demand – especially in America - is still evidently very strong, but the argument from many is that perhaps the US Fed has overcooked demand with too much stimulus. Quantitative easing and the printing of money has always been a problematic solution to economic struggles, and while modern management is far more successful than that of Germany 1924... the effects currently are visible in strong inflation and far greater demand than supply can manage. Six months or more of calls for Jerome Powell and co. to begin tapering and to limit cash printing might just turn out to have been the right call – which could mean no more Mr Powell come the end of his term in February next year.