Gold hits 4.5 month high above $1,900
By Michael Pinson, News Editor
26 May 2021
Continuing its recent bull run, gold has made further gains in trading so far this week, and has climbed to a 4.5 month high overnight. Gold has risen above $1,900 per ounce for the first time since early January, hitting a peak of $1,910.63 this morning.
.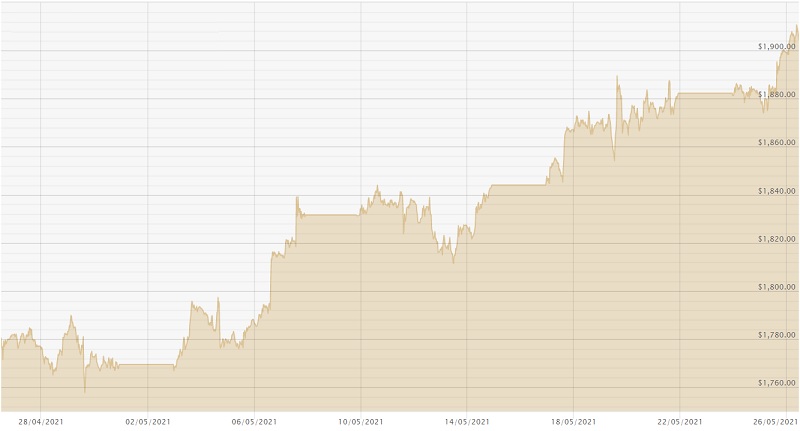 .
Gold has now made consistent gains every week since hitting a bottom of $1,680 per ounce at the end of March. In the two months since, it has gained an impressive $230 per ounce, and is up by 7% in the past month alone as pictured above.
The gains come as the Dollar continues to weaken. The Dollar index, measured against a basket of major currencies, has been weak in recent weeks. Low interest rates and treasury bond yields are worrying markets that money will flow elsewhere for as long as this continues, pushing the Dollar down.
Markets want to see interest rates rise to keep the Dollar competitive, and combat fears of potential inflation to come. The Federal Reserve for now seems unmoved however, and continue to assert that inflation will be transitory only, and that it is too early to put the brakes on money-printing and raise interest rates without derailing the economic recovery. For now, stock markets seem reassured that central banks are keeping monetary policy accommodative, but the weakness of the Dollar and low yields are both benefitting gold.
Cryptos also remain down from recent highs, though Bitcoin has recovered some ground following the slump last week. Debate has only intensified on the merits of cryptocurrencies/assets, and the place they can take in an investment portfolio. With companies like HSBC warning against it due to volatility, gold may also be benefitting from some investors rotating out of cryptos and back to the more traditional physical metal.
Sterling failed to capitalise on the Dollar's weakness, and similar gains for gold were seen in GBP. Gold hit a peak of £1,351.26 per ounce this morning, the highest it has been since early February here in the UK. A slight dip in the price, combined with a small rebound in Sterling however has pushed the gold price down to £1,345 at the time of writing.
Silver is also up 1.5% in the past 24 hours, and is approaching the £20 per ounce mark once more. Silver has been enjoying a similar bull run to gold, but has struggled to gain the same level of momentum. Having built up a strong base so far however, many silver investors are watching closely for any signs of the next big rally.
With both metals having performed well in the past two months, investors are now wondering how high the rally will see them go. Gold is only $150 or so from it's all time high, and having gained more than that in the past two months, could push on to a new record if inflation fears continue to rise and the Dollar weakens further.