Further gains for gold and silver as Bitcoin suffers
By Michael Pinson, News Editor
18 May 2021
Following a strong week for gold and silver, both metals have seen further gains in trading today, pushing them up to a four and three-month high respectively.
The gains come as inflation fears continue to circulate among global markets, as well as a sharp correction in the price of Bitcoin.
.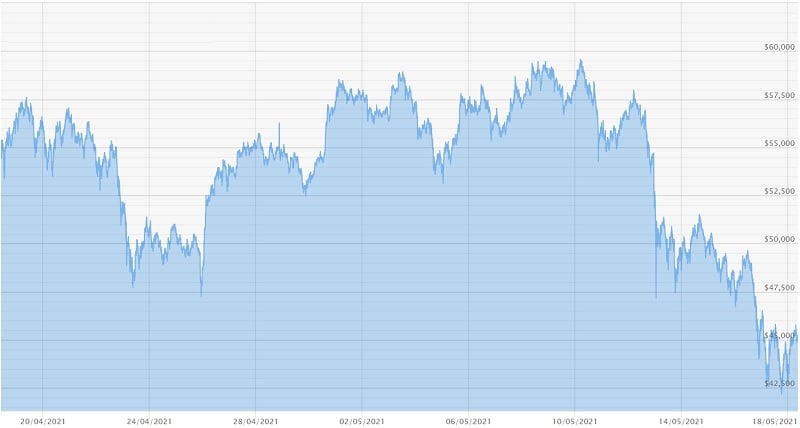 The price of Bitcoin in USD for the past month.
Bitcoin's price has been relatively tied to the company Tesla, and its owner Elon Musk, in recent weeks. When it was announced the company had bought a significant investment in the crypto asset, and would be accepting Bitcoin as a payment method, it helped propel it to a record high of $64,859.00 in April.
Musk has since taken to Twitter however to confirm that the company has reversed the decision to accept Bitcoin, due to concerns over its high energy consumption, causing prices to slump. Further speculation that Tesla was selling its investment in the crypto, since refuted by Musk, has only served to push prices down further.
Bitcoin has fallen as low as $42,172.63 this week, a drop of 34.97% from its peak in just over a month. Beyond investor concerns over much influence Elon Musk is able to exert on crypto assets with a simple Tweet, there are continuing discussions over the unregulated nature of such assets, and whether governments will introduce regulations that could see their value decrease further in the months and years ahead.
The drop in Bitcoin, combined with the ongoing uncertainty surrounding inflation and economic recovery, have for now given gold and silver an additional boost on last week's gains. Gold climbed to $1,874.07 per ounce overnight, a high not seen since the start of the year, and could reach $1,900 per ounce if momentum is maintained. A stronger Pound has once again limited the gain somewhat in Sterling, but gold is still holding above £1,300 per ounce, trading at £1,317 at the time of writing.
Silver meanwhile hit $28.76 per ounce last night at its peak, the highest in just over three months when silver was dominating headlines as part of the 'Silver Squeeze' movement. Despite having fallen back slightly since, and the stronger Pound, silver is still trading at £20.08 per ounce at the time of writing, and is up more than 3% in the past week.
Stock market gains and positive UK employment data released this morning seem to have halted the momentum for now, but markets will undoubtedly be watching for further movement on Bitcoin and inflation throughout this week. Gold and silver have both enjoyed steady gains since March now, and analysts are forecasting for the rally to continue if inflation rises further, and economic recovery stalls.