US inflation data sees further volatility for gold and silver
By Michael Pinson, News Editor
13 May 2021
High inflation figures from the US yesterday have triggered further volatility for precious metals, as markets continue to debate on how much of a risk inflation is, and when central banks will tighten fiscal policy in response to it.
Despite the highest inflation figures since 2008, and a stock market sell off, gold and silver have also come under pressure from a rising Dollar and bond yields.
.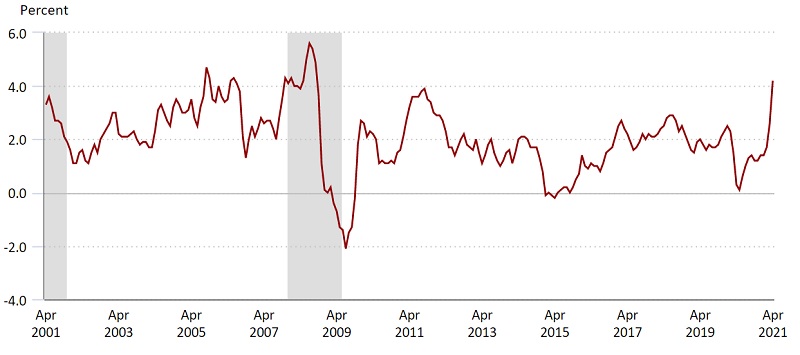 US CPI chart – sourced from the US Bureau of Labor Statistics.
CPI data for April came in far above expectations, with prices rising 0.8% on March, and up 4.2% year-on-year. The figures follow from China's PPI (Producer Price Index) which also showed a worrying increase of 6.8%; a rise to manufacturing costs that will likely pass on to consumers eventually.
The statistics have seen inflation fears once more on the mind of markets globally, and restarted the debate over whether the figures are early indications of a sustained problematic period of inflation to come due to money-printing, or a temporary surge as economies restart following more than a year of lockdown. Central banks will likely continue to stick to the 'transitory' stance for some time yet, and it will take a few months before any conclusions can truly be drawn. As such, expect further volatility to come for the next few months as the numbers are released.
Whether a temporary spike or not, the numbers have seen global stock markets selling off this week, pulling the major indexes back from their recent record highs. Despite this fall in stock markets and the high inflation data, both of which would normally support gold and silver prices, they have instead fallen slightly overnight along. Other commodities like iron, copper and oil, which had been enjoying strong gains the past few weeks, have also fallen as a result.
The prospect of higher inflation means markets are speculating a tightening of monetary policy ahead of the expected schedule, giving the US Dollar a boost and pushing the Pound down a cent from its recent peak of $1.416 to $1.403. Bond yields also rose on the news as investors sold them off in favour of the Dollar, and these two factors have for now dampened any gains that gold and silver could have received from the news on inflation.
Gold initially saw a spike to £1,303.53 per ounce yesterday as the inflation report came out, but has since fallen and is trading around £1,293 per ounce so far today. Silver meanwhile had initially climbed to £19.58 per ounce but has fallen back to £19.20 per ounce at the time of writing.
If inflation figures continue to come in high for the next few months the hedge status of precious metals should start to come into play, and push prices higher. The strength of the Dollar will also continue to play a significant role in the gold and silver price. For now however, volatility will likely remain high as markets move back and forth in opinion on inflation and whether central banks are right to consider it transitory.