Signs of recovery for gold as market turmoil rises
By Michael Pinson, News Editor
23 Mar 2021
A host of economic issues has added further uncertainty for the global economy in the past few days. Both geopolitical concerns as well as the ongoing coronavirus pandemic have served to give gold a small boost following its recent price pressure.
Having fallen as low as £1,213.79 per ounce earlier this month, gold has been making gradual gains since, and is now up just over 4% and trading at around £1,260 per ounce today.
.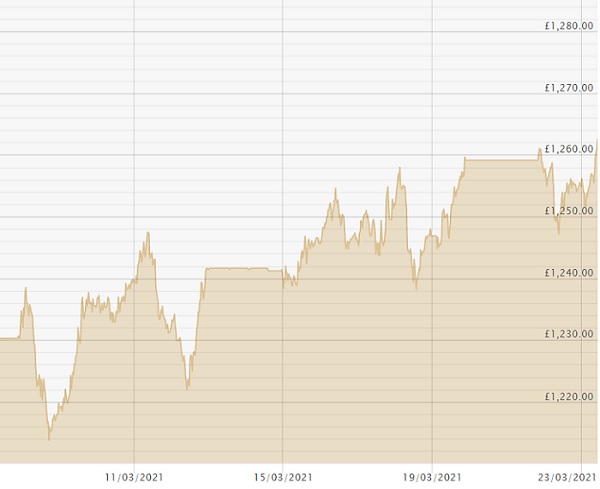 .
Political tension between China and the US played a large part in the gold price in 2019, and has returned to headlines this week. Sanctions on Chinese officials brought in by the US, Canada, UK and EU over the treatment of Uighur Muslims have already sparked retaliatory measures from China.
The rise in tensions saw Chinese and Hong Kong stock markets fall, as investors fear any further escalation in the diplomatic row. The new sanctions will also do little to resolve the longstanding trade war between the US and China. There had been hopes the new Biden administration would help smooth over relations between the two countries, but so far there seems to be no end in sight.
Turkey has seen a huge slump in the value of its currency and stock market, following the shock dismissal of the Head of its central bank. Disagreements between the President and the Governor over the country's interest rate led to his dismissal. The Turkish Lira slumped by almost 15% against the Dollar at one stage yesterday, while Istanbul's BIST index fell 9.8% on Monday, triggering circuit breakers.
As always, Covid-19 remains the largest concern for global markets, and the continuing outbreak in Europe is of particular concern this week. Many countries are experiencing significant infection rates, and are re-imposing or tightening lockdown measures to try and combat the spread of the virus.
France, Italy and Germany in particular have caused concern, with the latter bringing in a strict lockdown over Easter, and Chancellor Merkel warning the country faces a new pandemic. As one of the EU's leading manufacturers the longer Germany's lockdown goes on, the greater impact it will have on already stretched supply chains globally.
The slow pace so far of the EU's vaccination program is also causing frustration and pushing back estimates for reopening on the continent. It has even caused further political tension between the EU and UK over a potential vaccine export ban, which has seen the Pound pull back from recent highs against the Euro.
The events of this week have shown that the pandemic is far from over, despite optimism in the UK and US where vaccination has been relatively successful so far. Other economic and geopolitical disruption as seen in Turkey and China will also become more common again, as countries look beyond the pandemic and return to the already uncertain economic stage seen in 2019.