Dollar recovery puts pressure on gold
By Michael Pinson, News Editor
04 Jun 2021
The US Dollar has seen its value bounce back in trading yesterday on the back of strong jobs data. The Dollar's gains have put additional pressure on gold however, pushing it back below $1,900 per ounce.
Having fallen to 89.66 on Tuesday the US Dollar index rose to a peak of 90.63 overnight, up 1%. The gains came following a better-than-expected jobs report from the US yesterday, with almost a million jobs added to the American economy in May, and new unemployment claims down to a pandemic low.
The strong job numbers have once again raised speculation that the Federal Reserve will need to consider tapering their fiscal stimulus programs and look at raising interest rates to prevent the economy from overheating. The US economy is recovering quickly following a relatively successful vaccine rollout, and employment is becoming one of the key areas used by analysts to highlight this.
The prospect of the US recovery, and potential interest rate rises have both helped to boost the Dollar, as noted above, and saw both the Pound and Euro fall against it, among many other currencies as well.
The rebound in the Dollar saw gold and silver fall from their recent highs, with both metals pulling back from the gains made last week. Having climbed as high as $1,916.95/£1,349.79 per ounce on Tuesday, gold is now trading at $1,870/£1,324 per ounce today.
.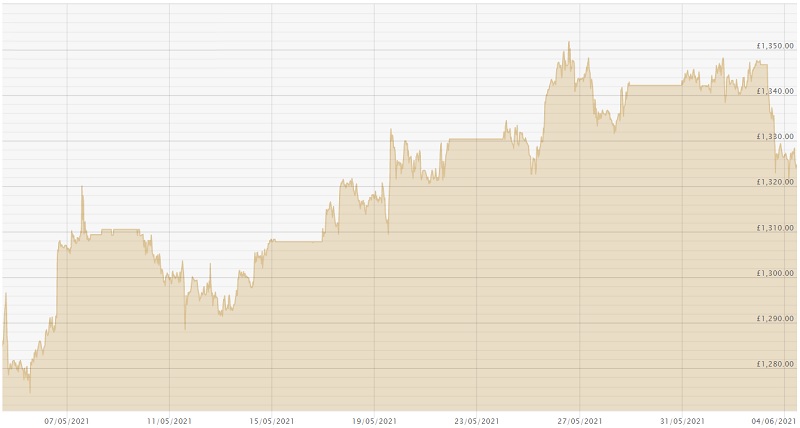 .
Silver dropped from $28.57/£20.15 to a low of $27.07/£19.17 yesterday afternoon, but has since recovered some ground, and is trading at $27.42/£19.41 at the time of writing.
Further job data is expected from the US this afternoon that will either help confirm the strong numbers reported yesterday, or dampen some of the recovery hopes. This could see some further movement in precious metal prices ahead of the weekend. The direction of that movement will depend on the outcome of the numbers, and what impact they have on market perception for the chance of tapering and interest rate rises.
Similar job growth is being seen in the UK, and like the US, wage pressure is growing as service sectors in particular try to hire new staff to meet the surging demand as restrictions ease. This is combining with the soaring costs for supplies and materials to add further inflationary pressure for both economies and is further raising fears of inflation to come.