Rare US doubloon sells for $9.36 million
By Michael Pinson, News Editor
26 Jan 2021
A rare, gold 'Brasher Doubloon' has sold for an eye-watering $9.36 million at auction recently, setting new records for both the auction house, and grading company - the Numismatic Guaranty Corporation.
The NGC is one of the word-leading graders, offering numismatists an independent way to get old or collectable coins professionally graded. The sale is being celebrated as the highest amount paid for a NGC coin, more than doubling the previous record.
.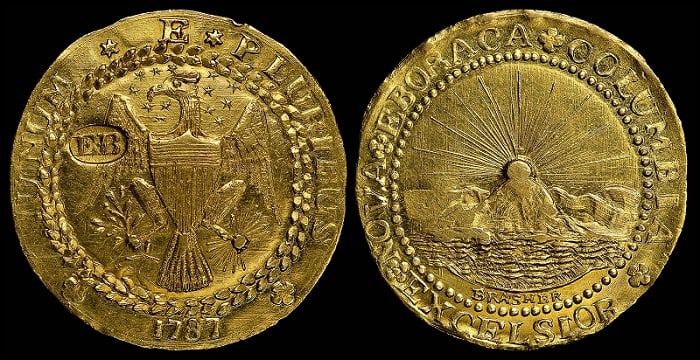 A 1787 Brasher Doubloon, picture courtesy of Heritage Auctions via Wikimedia.
The Brasher Doubloon is from 1787, and only nine are known to still be in existence. They are highly sought after among US numismatics, on account of being some of the first coins to be issued by a newly independent America. They take their name from a New York gold and silversmith - Ephraim Brasher – whose EB initials can be found on the coins.
Following its separation from the British Empire, several states issued varying coins in response to the British, French, and Spanish coins circulating in the country, with the Brasher Doubloon being one of the few to be struck in gold rather than copper. The US Mint was not formally created until the Coinage Act of 1792, making these doubloons a unique point in US coinage.
The record-breaking coin is known as a New York-style Doubloon, and is the highest graded example of the seven such coins of this style. The grade of MS 65★ means the coins is in Mint State, and is "well struck with moderate marks or hairlines" according to the NGC scale. The star designation denotes "exceptional eye appeal".
As well as breaking the NGC record, the coin also broke records for seller Heritage Auctions, with the Brasher Doubloon the most expensive coin they have sold. The coins were part of a collection owned by Donald G. Partrick, and this sale alone featured over 70 coins, tokens, and medallions, selling for a total of over $19 million.
The Partrick collection shows that numismatics is still thriving, with several high profile – and high value – sales in recent years, both in the US and UK.