UK heading for potential double-dip recession
By Michael Pinson, News Editor
20 Jan 2021
A double-dip recession is looking increasingly likely for the UK economy in 2021 following the release of the latest GDP figures.
After a historic contraction in Q1 and Q2 of 2020, the UK economy had shown signs of recovery, with six consecutive months of growth. November's GDP figures have ended that spree, with a fall of 2.6%, and point to a potential double-dip recession in 2021.
.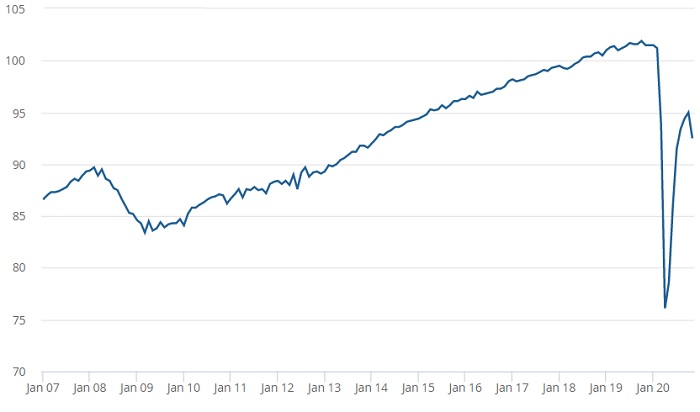 UK GDP Growth - Source: ONS
November's contraction coincides with the second national lockdown in England when stricter measures forced non-essential shops to close. Wales, Scotland and Northern Ireland also had lockdowns or restrictions in place, further impacting the figures.
Q1 and Q2 of 2020 had already seen the UK plunged into recession as a result of the first national lockdown when Covid-19 first reached the country. Q3 then saw a small bounce back as shops, hotels and pubs reopened in the summer. The recovery had been hoped to continue into the final quarter of the year, but November's figure has ended any such recovery.
Although December saw some small reopening of the economy, as the UK transitioned out of the second lockdown and into the four-tier system, economists are unsure if it will have been enough to offset November's contraction, and could point to Q4 overall being a drop in output.
With UK starting 2021 with even stricter restrictions – and a third national lockdown for England – Q1 of 2021 is also expected to bring further contraction, officially placing the UK back into recession just one quarter after the last one.
If December 2020 did see some growth in the run up to Christmas however, then it is possible that would be enough to avoid the dreaded double-dip recession. Q1 2021 will still likely bring contraction, but would become only the first of the two quarters necessary for a recession.
Q2 of 2021 is also an unknown factor at the moment. The vaccine rollout in the UK has been relatively successful so far, and puts the UK ahead of many other countries. With the most vulnerable expected to be vaccinated by Easter there are hopes that restrictions will begin to be eased, putting Q2 squarely in the sights for a bumper recovery.
With millions of adults further down the queue for vaccines however it is unclear how far restrictions can be eased without risking another spike in cases. Health experts have warned that restrictions will need to be eased gradually and that measures may be needed for the remainder of the year at least, potentially reducing the strength of any recovery.