Pound hits 32-month high against the Dollar
By Michael Pinson, News Editor
13 Jan 2021
Sterling has begun 2021 with gains that have pushed it to a 32-month high against the Dollar. GBP has been boosted by a number of factors, and analysts believe there could be further gains to come for the Pound in the weeks ahead.
Sterling climbed as high as $1.36958 last night and has been trading around the $1.366 mark so far today. This puts Sterling at its highest since May 2018 against the Dollar.
.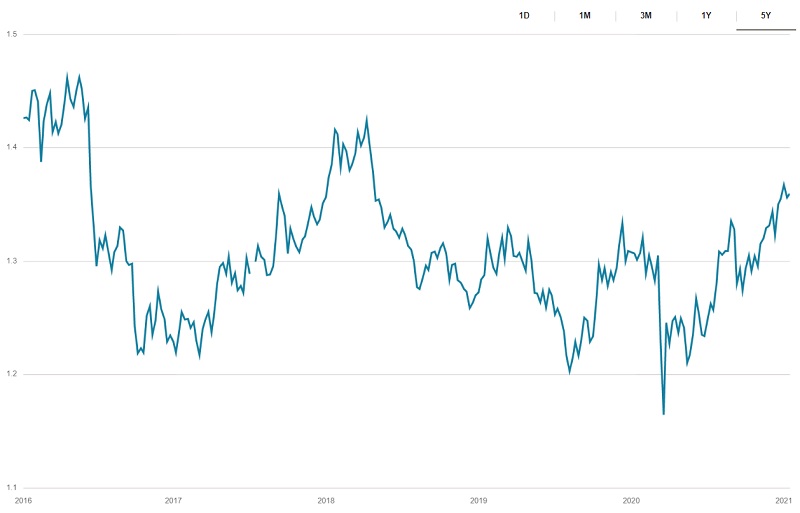 GPB to USD for the past five years. Image courtesy of BBC.
One of the key boosts for the Pound so far has been the avoidance of a no-deal Brexit coming at the last possible moment in 2020. Although businesses have already reported increasing costs and disruption due to the official transition from the EU, many agree the deal has avoided the worst-case scenario that had looked increasingly likely around Christmas.
The UK's vaccine rollout has so far been one of the most successful in the world, and markets believe the outlook for the UK heading into the summer is looking better than those of the US and EU. While the UK government have so far prioritised the elderly, it is currently aiming to offer the vaccine to all adults in the UK by the end of the year.
Europe and the US have both suffered slower rollouts, while also dealing with far bigger populations and logistical challenges. This could see the UK service industry in a better position to reopen in the latter half of 2021, and provide economic recovery ahead of other countries if the vaccination success continues.
A final boost for Sterling was provided by Bank of England Governor Andrew Bailey, who suggested there was a lot of issues with negative interest rates which could stop the BoE from introducing them. Negative interest rates have been discussed since the BoE reduced rates to 0.1% in response to the Covid-19 pandemic and resulting recession. The Governor's comments have for now given markets confidence that the extreme financial option is unlikely in the near-term at least.
Sterling's gains are adding further pressure to dollar-denominated bullion prices. In a continuation of last week's volatility that have been gains and losses for both gold and silver. Gold is down 4.91% on this time last week in GBP, while only being down 4.21% in USD. Silver meanwhile has fallen 7.92% in GBP, versus just 6.69% in USD.
After years of currency volatility due to Brexit it appears that 2021 will continue to bring further movement, though in contrast to the past few years, this has been in the favour of the Pound in the first two weeks of the new year.