Volatile start to 2021 for precious metals
By Michael Pinson, News Editor
07 Jan 2021
It has been a relatively volatile first week of trading in 2021 for precious metals, with prices up and occasionally down as markets react to changing outlooks in what will likely be another year of economic upheaval.
As trading opened on Monday, both gold and silver saw impressive gains as markets reacted to the ever-increasing numbers of Covid-19 cases across the US and Europe. Multiple countries reintroduced severe restrictions after an easing of rules over the holiday period saw cases spike; particularly in the UK where a new variant proved highly transmissible.
A third national lockdown for the UK is expected to push the economy into a double-dip recession, as thousands of businesses face weeks of reduced trade. While hopes for improvements in the latter-half of the year are growing in light of the vaccine rollout, the Q1 lockdown is expected to cause more economic damage and unemployment in the short and long term.
.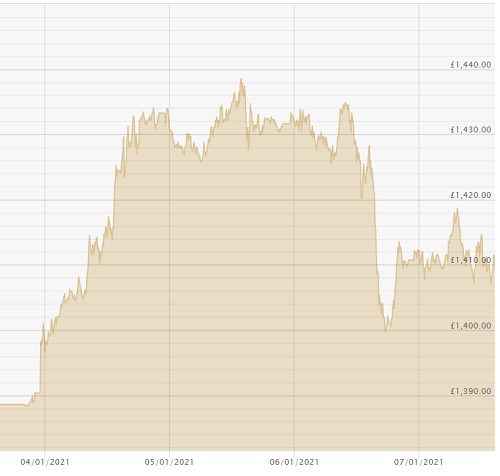 .
As trading opened for the new year, gold climbed from £1,388 per ounce, to a peak of £1,438 per ounce by midday Tuesday, up 3.6%. Silver meanwhile performed even better, jumping from £19.36 per ounce to £20.46 as of yesterday afternoon, up 5.6%.
Both metals have since pulled back slightly as the week progresses, but are still up so far versus the turn of the new year. Stock markets have so far welcomed the results of two key votes in Georgia, which have now handed Democrats power in the House, Senate and Presidency.
Despite violent scenes in Washington last night, Joe Biden now looks set to take the presidency in less than two weeks, and from a position of power that should be sufficient to push forward with his economic and environmental plans.
Although the 'blue wave' in the US is expected to lead to higher spending, and higher inflation (which should support precious metals), risk sentiment has risen in the short-term. This has pushed stock markets back towards recent all-time highs, and put selling pressure on both gold and silver.
For now, gold is holding around £1,410 per ounce, while silver is trading near the £20 per ounce mark. If more countries introduce restrictions however, and inflation begins to rise after nearly a year of unprecedented economic stimulus, then precious metals could continue the impressive price rises we saw in 2020.