Sterling near three-year high as vaccine optimism grows
By Michael Pinson, News Editor
17 Feb 2021
Sterling is continuing to rise against both the Dollar and Euro this week, and reached a 34-month high against the Dollar, putting additional pressure on metal prices here in the UK.
The Pound was trading as high as $1.39498 so far this week, a price last seen in April 2018, and marks the continuation of an impressive rally for Sterling since dropping as low as $1.149 in March 2020 when the first UK lockdown was announced.
.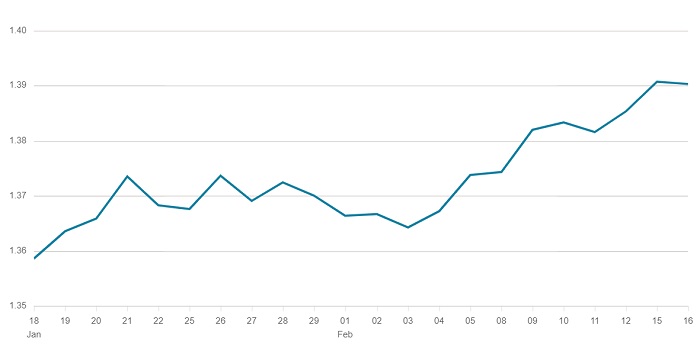 GBP to USD. Chart courtesy of BBC
The gains for Sterling come as vaccine optimism for Britain continue to grow. The government has met its initial target on vaccination for the first priority group. The long-term success of the vaccine rollout in the UK, and the world at large remains to be seen, particularly in light of the worrying number of new variants that could threaten the efficacy of current vaccines.
For now though, UK markets are optimistic that vaccines are working, and will open a path to the ending of lockdown in spring and a return to some level of normalcy by the end of the year, providing further economic recovery.
The Pound has also benefitted from the continuing weakness of the US Dollar. The Dollar has been trading relatively low as investors turn away from the greenback in response to the $1.9 trillion stimulus program proposed by President Biden, and towards riskier assets like stocks. Stock markets are continuing to climb to new record highs, and price-to-earnings ratios of stock markets are reaching highs last seen during the previous financial crisis, highlighting the growing disconnect between stock markets and the real-world economy.
Despite a slight pullback for the Pound, the strength of this week has pushed gold down below £1,300 per ounce, the lowest it has been since April 2020. Gold in Dollars has dropped 9% in the past six months when Covid-19 fears pushed gold up to its record high. In Pounds however, the same period has seen gold fall by 14% due to the additional pressure from the stronger Pound.
After three years of weakness due to Brexit, the Pound has enjoyed some small recovery, but still has a way to go before reaching pre-Brexit levels around $1.5 and higher. Gold has pulled back from last year's highs as hopes grow over the end of the global pandemic, and the additional pressure from the strong pound could represent a good buying opportunity should inflation rise, or the pound fall once more.