Rare gold penny estimated to fetch up to £200,000 at auction
By Michael Pinson, News Editor
04 Aug 2021
An incredibly rare gold penny, known as a Mancus of 30 Pence, is due to go to auction in September. The coin, the only known example in private ownership, is estimated to fetch an impressive £150,000 - £200,000.
The Mancus was found by a metal detectorist in a field at West Dean on the Wiltshire/Hampshire border in March 2020. The coin was minted during the reign of Ecgberht, King of the West Saxons, who ruled between 802 – 839. The lack of detailed records at the time makes narrowing down the date impossible, but the coin remains an incredibly rare find. It is due to be sold by specialist auctioneers Dix Noonan Webb.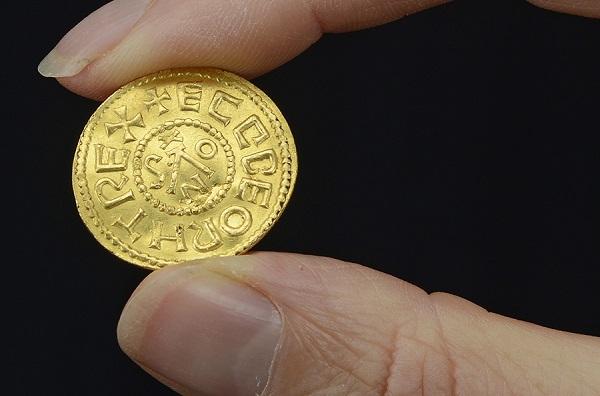 Gold coins during the Anglo-Saxon period in England are highly unusual, with only nine coins (including this latest find) known to exist. Rather than any regular minting for payment, it is thought they would have been primarily used for religious and ceremonial purposes. If they were used for payment, it would have been extremely high value purchases only, and would certainly have been owned only by royalty and the highest of nobility.
Seven of the known Anglo-Saxon gold coins can be found in the British Museum, with the eighth at Lausanne, Switzerland. The new coin being in private hands then offers collectors a chance to own an extremely unique coin. The gold Mancus weighs 4.82 grams, making it smaller than a Sovereign. The purity of the coin is also extremely high, with XRF machine showing just 2.8% silver and 0.6% copper present. It is believed this was likely natural gold and left in its natural alloy state rather than being refined.
This high purity would again make the coins unsuitable for circulating currency due to being too malleable and easily damaged. Despite this, the coin looks to be in excellent condition, with the high purity of gold ensuring it has held up well against the centuries, and still shows surprisingly clear detail for a hammered coin.
Even the location of the West Saxon mint or mints, where the Mancus would have been struck, is lost to time. Experts are split between Southampton and Winchester. Minting at the time would have been undertaken by individual smiths who specialised in the hammer production method, and Ecgberht's reign predates even The Royal Mint.
Such a rare part of British coinage history is sure to garner huge demand from numismatists and will make an incredible addition to any collection.