Gold bars and coins found stashed in old French house
Officials in France have been left perplexed and excited by the shock discovery of a hoard of gold bars and coins in a dilapidated house marked for renovation. The collection of gold bars and coins is valued at €600,000 (just over £515,000) making it an impressive find.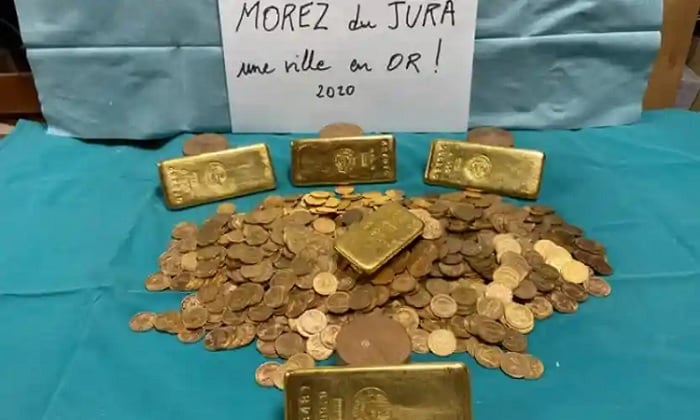 Photo of the surprise gold stash in Morez, France. Photo by Morez council.
The items were discovered in Morez, a small town on the eastern border between France and Switzerland. The beautiful mountainous area was once famed for clocks, and is now mainly known for its part in the manufacture of spectacles.
As part of plans to encourage new buyers to the area, town officials introduced a program to buy and renovate old houses that had been sitting empty. While clearing out one such property however town officials, including the mayor and a local museum head, were shocked to discover three jam jars on a dusty shelf, filled with gold bars and coins. Upon further exploration a safe was discovered in a wardrobe, and was finally opened recently. The safe was found to contain more gold coins, and is believed to be the final part of the collection now that the house has been cleared.
The empty three-floor house was previously owned, and lived in, by a family of four brothers and sisters, all without children. When the final resident died in their 90s it was offered for sale and snapped up by the town as part of their program. The family were the last of several generations to live in the house however, and it is unsure who in the family had amassed the valuable collection. The family had been involved in Morez's famous clock and spectacles industry however, and the small fortune was likely earned through this.
In total, the hoard involved 5 gold bars and over 1,000 gold coins, and the council have announced the funds will be put towards a special project that has yet to be decided upon. The relative that sold the house was reportedly surprisingly calm to learn about the missed treasure, stating he had heard rumours about the coins and bars, but believed they had already been given away.
Mayor of Morez - Laurent Petit – was quoted saying "I can't say it has turned us into the Las Vegas of the Jura, but it has made us smile."