FTSE falls by £50 billion as restrictions return
By Michael Pinson, News Editor
22 Sep 2020
The FTSE 100 yesterday suffered its worst day in over three months as growing numbers of coronavirus cases in the UK brought in new coronavirus restrictions.
With restrictions expected to impact businesses once more, over £50 billion of value was wiped from the UK's flagship stock market. The list of key UK companies closed 3.4% down, as investors ditched stocks in the businesses expected to be worst hit by the restrictions.
The return of restrictions is not limited to the UK however, with much of Europe also bringing in their own measures as coronavirus continues to spread across the globe. Even the US stock markets felt the impact of the rush of risk averse investors, with the Dow Jones closing 1.8% down.
These fears have been realised today in the UK, with Prime Minister Boris Johnson announcing in Commons that the UK will face new restrictions from Thursday. Of particular concern for the economy is the announcement that businesses in the hospitality sector (such as pubs and restaurants) will be limited to table-service only and must now close at 22:00.
.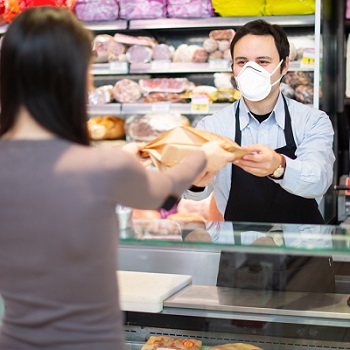 Staff in more shops will be asked to wear masks to help reduce transmission of Covid-19 to customers.
Government advice on office workers has now also reverted to the previous message of working from home wherever possible, just a few weeks after pushing for a return to the office for many. This will leave transport and city centres also facing reduced footfall and revenue.
Boris Johnson hinted that measures could be in place for as long as six months if numbers do not fall sufficiently, which has also proved worrying for many in the affected industries. Dame Carolyn Fairbairn – Director General of the CBI – said that "there can be no avoiding the crushing blow new measures bring for thousands of firms, particularly in city centres and for our hospitality sector employing over 4 million people. It is vital that all announcements of restrictions go hand in hand with clarity on the business support that protects jobs. A clear timetable is welcome, but six months will come as a shock to many."
Despite the confirmation, stock markets have recovered somewhat today as investors digest the restrictions and weigh up their impact versus that of a potential full lockdown should cases be allowed to spiral unchecked. The intent of today's restrictions seems to have been a balance between the maximum impact on the virus with the minimum impact on the economy.
Rumours of a 2 week 'circuit breaker' style full national lockdown have for now then not materialised but the method is likely still in reserve should infection rates worsen and the significant economic damage of such a move become more beneficial than doing nothing.
Gold and silver both came under pressure from the stock sell off yesterday in a similar scenario to the initial lockdown announcements in March of this year. Gold initially dropped back below £1,500 per ounce to a two-week low but has also made some small recovery today and is now trading at £1,498 per ounce.
Silver meanwhile fared worse, continuing its trend to magnify gold's movement – whether up or down – and fell to a six-week low. Like gold however it has recovered somewhat today and is now back above £19 per ounce.
Analysts and commentators are split on whether the measures go too far, and that the virus should be allowed to circulate to allow the economy to recover further, while others caution that a full lockdown will be far more damaging to the economy than the measures announced today.
The volatility of the past 24 hours however serves as a reminder that this has been a year of fast and significant change, and that more announcements will bring more volatility for precious metal prices.