Gold sets new all-time price record
After several months of impressive gains, a surge as trading opened this morning saw gold set a new all-time high in Dollars.
Gold spot price surpassed its September 2011 all-time high of $1920.30, rising to a current peak of $1,945.69 per ounce.
Silver has also seen significant gains in the past few weeks, as investors look at alternative safe havens. This saw silver jump 6.41% alone this morning, climbing from $22.77 at opening, to a peak of $24.61 today.
On the London bullion market gold has also hit record highs in pounds sterling on the back of the new Dollar record. This morning saw gold climb above the £1,500 per ounce barrier to hit £1,514.87. Silver likewise soared up to £19.11 per ounce, the highest it has been since March 2013.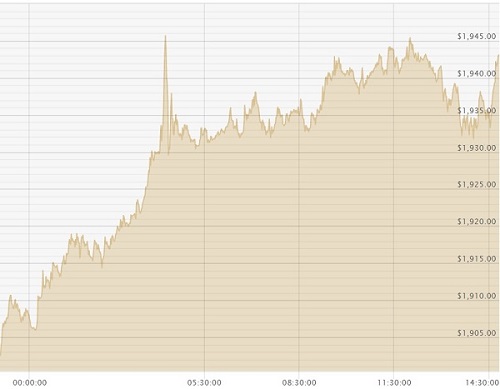 The gold price in US Dollars this morning, showing the new all-time high for gold of $1,945.69.
Predictions from the accountancy firm Ernst & Young that the UK economy may not fully recover to pre-Covid levels until 2024 highlight the long term concerns facing investors. V-shaped recoveries are considered unlikely now given the increasing number of cases of coronavirus around the world.
Both gold and silver bullion have also hit dramatic highs measured in Indian Rupees and a host of other 'emerging market' currencies.
There are currently many factors leading to these ferocious rallies in the gold market. A global economic crisis from the coronavirus pandemic, and worsening US-China relations are both adding to gold's safe haven appeal. Central banks are continuing to print money which increases fears that record inflation levels or even hyperinflation is just around the corner. A contrary view is that money printing could lead to stagflation. This is a rare combination of poor growth and rising inflation that erodes the value of fixed-income investments.
The consequence of either is that, in addition to safe haven appeal, investors are buying gold bars and coins for diversification, and as a hedge against falls in other investments. Finally, adding to all these factors the precious metal is denominated in US dollars and a weak dollar generally increases the price of gold. The US currency's current weakness against the Euro is therefore another major contributor to these record prices.
The US is currently the centre of the global pandemic, with significant cases being reported daily, and lockdown measures being reintroduced in many states. The once-strong US economy is under one of the worst threats in its history and does not look to anywhere near the end of its struggles.
Despite the record high price there are expectations that gold could climb still further. Mark Mobius, co-founder at Mobius Capital Partners, said in a Bloomberg TV interview. "I would be buying now and continue to buy."
As long ago as April, Bank of America Corp. raised its 18-month gold-price target to $3,000 an ounce. Its head of commodities and derivatives research, Francisco Blanch, said, "The global pandemic is providing a sustained boost to gold." He added, "Moreover, as China's GDP quickly converges to US levels helped by the widening gap in Covid-19 cases, a tectonic geopolitical shift could unfold, further supporting the case for our $3,000 target over the next 18 months."
The current forecast of $2,000 per ounce by the end of 2020 looks more than achievable following this mornings gains. Gold has barely fallen back from its record and is at $1,941 per ounce at the time of writing, needing only a further $60 to reach that milestone, one which few would have expected at the start of the year. It is a momentous day for many gold bulls, and the new record may not be held for long given the current momentum in precious metals.