Central bank gold purchasing narrowly misses 2018 record
By Liam Sheasby, News Editor
31 Jan 2020
---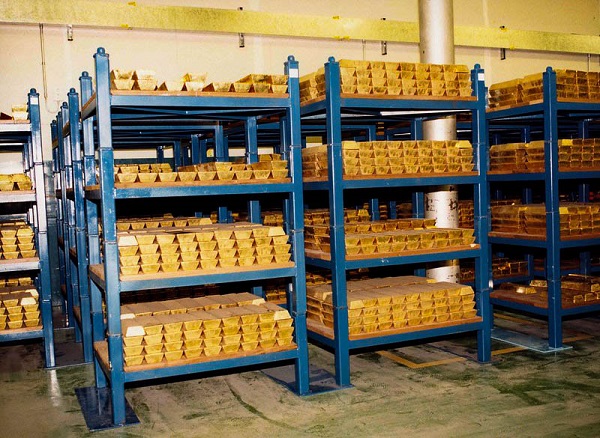 Gold reserves in a security vault. Photo courtesy of the Bank of England.
.
The latest statistics from the World Gold Council (WGC) have revealed that gold purchases for national reserves totalled 650.3 tonnes – 1% less than demand for physical gold in 2018 (656.2 tonnes).
Despite the narrow miss of the 2018 total, 2019's figures still make it the second highest year in the last 50 for gold bullion demand from central banks. 15 central banks, including Turkey, Russia, China, Poland, and India, chose to invest in physical gold for national reserve diversification, with many countries keen to spread risk in their holdings beyond a stockpile of US Dollars.
The central banks that purchased gold in 2019. Image courtesy of the World Gold Council's Q4 2019 report.
.
Interestingly, this demand was – in the words of the WGC – "exclusive to emerging market central banks looking to bolster and/or diversify their overall reserves." The following central banks purchased gold in 2019:
TURKEY: Officially the largest buyer in 2019, due to a scaling down of purchasing from both China and Russia. Turkey added 159 tonnes to its gold reserves last year, taking the central bank holdings to 413 tonnes; a 63% increase from 2018 and the equivalent of 20% reserves.
POLAND: Turkey may have bought the most gold, but Poland achieved the largest purchase in 2019, buying 94.9 tonnes in June. The eastern European country bought 100 tonnes total in 2019, meaning their national reserves now contain 228.6 tonnes of gold.
RUSSIA: Gold reserves in Russia have been rising consistently for the past 20 years as part of Russia's intent to move away from the US Dollar as much as possible. Russia added 1 tonnes of gold in 2019 – a 42% reduction on 2018 – with the country keen to focus on being a gold exporter for the new decade and offering introductory discounts.
CHINA: Akin to Russia, China bought a modest 8 tonnes of gold between January and September last year, before ceasing purchases. China's gold reserves now stand at 1,948 tonnes, which is 3% of their reported total reserves.
KAZAKHSTAN (35 tonnes)
INDIA (32.7 tonnes)
UAE (13.5 tonnes)
QATAR (11 tonnes)
ECUADOR (10.6 tonnes)
SERBIA (10 tonnes)
KYRGYZSTAN

(N/A)

MONGOLIA (N/A)
BELARUS (N/A)
COLOMBIA (N/A)
GUINEA (N/A)
2019 also brought a decade of significant gold buying to an end. According to the Council's figures, central banks have added an astounding 5,019 tonnes of gold to (official) national reserves. This works out at an average of 500 tonnes per year. In contrast, the decade before saw sales of gold rather than purchases, with 443 tonnes per year on average released for sale from central bank holdings. The chart below illustrates the change:
Gold purchasing statistics since 2000. Image courtesy of the World Gold Council's Q4 2019 report.
.
2020 is the start of a new decade. As January ends, global economic slowdown is in full swing, the threat of conflict between the US and Iran is still very real, the threat of escalation with North Korea is always on the cards, global warming and climate change are quite literally the hot topic, and the US Presidential Election is also to come this Autumn. Factor in the unexpected, such as the Coronavirus, and you have many reasons for continued precious metal demand – at least for this year and next.