Gold supply at risk as Australia drought hits mine output
By Liam Sheasby, News Editor
30 Jan 2020
---
The state of New South Wales in Australia is experiencing a 100-year low for rainfall – for the second year running. The damage of drought in the region is having a knock-on effect on gold mining, with Newcrest Mining warning of a likely drop in gold production in the state.
Newcrest Mining run the flagship Cadia mine, indicated on the map above, and are struggling to meet the water demand that is needed for gold mining. The process of refining is water-intensive; the usual ratio is 250 mega litres to one tonne of gold.
Australia's Bureau of Meteorology revealed that December 2019 was the lowest December rainfall on record for the island nation, which will come of little surprise to anyone who saw news footage of the cataclysmic wildfires that tore across the arid countryside over the last six weeks. 25 people have died in New South Wales so far, with thousands of homes and businesses destroyed and a toll on Australia's wildlife population in the millions.
Max temperature forecast for Friday. Severe heatwave conditions developing this week, with very hot and humid days and nights to come before a change moves across #Victoria on Saturday. Check your forecast here: https://t.co/x7fOGUJqJs #VicWeather pic.twitter.com/wHLaoC8JUN

— Bureau of Meteorology, Victoria (@BOM_Vic) January 28, 2020
With Australia in the grip of another summer heatwave (as seen above), fires are also being tackled elsewhere in the country, with weather and fire warnings out for South Australia and Tasmania. Western Australia is currently dealing with fires outside of Perth, but the famous gold fields – predominantly desert terrain – as largely unaffected at present.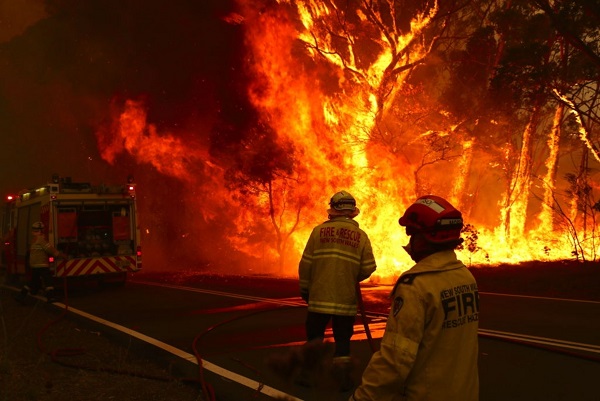 Firefighters rushing to move their fire engine outside of Belpin, New South Wales.
Newcrest made the news yesterday after reporting a fourth quarter drop in production of 16% overall, due to mine shutdowns in Papua New Guinea. If Australia doesn't see an increase in rainfall soon then there won't be adequate water supply to maintain gold output, meaning a decline in supply is likely.