Palladium passes $2,500 per ounce as demand for platinum group metals surges
By Liam Sheasby, News Editor
20 Jan 2020
---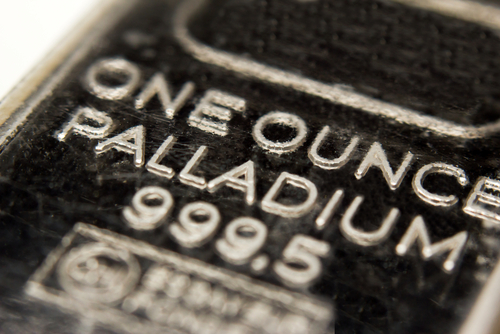 .
Continuing from its success in 2019, palladium is experiencing another market value surge – rising to $2,539.14 per ounce on Friday to record its best week since 2001 and the biggest one-day price rise since 2008.
The precious metal pushed on further this morning, setting a new all-time record of $2,580.50 at 8:38am UK time, before settling back to the current price of $2,557.00. There's no input from the American markets today due to Martin Luther King Day, but prices are expected to resume their ascent tomorrow.
It has been widely reported that palladium is experiencing a sharp supply deficit, for the eighth year in a row, with Standard Chartered expecting around 700,000 ounces (21.77 tonnes) less in production versus demand this year, and similar for 2021.
.
The palladium price for the past month in US Dollars per ounce.
.
On top of this, nations like China are boosting demand due to their attempts to regulate and reduce pollution in the country, with strict new laws on the emissions permitted from cars and other vehicles. Palladium is a key material used in catalytic converters, and China has been the main buyer. Phase One of the US/China trade deal has helped reassure investors and businesses that the end is in sight, and so demand for the car industry has started to pick up once more – squeezing an already struggling supply.
Palladium is a by-product of other mining, usually when mining metals like nickel. Last Thursday, South Africa reported that its Platinum Group Metals output was down for November by 13.5% compared to November 2018. This output, also including metals like platinum and rhodium, is due to issues with electricity supply, which is then triggering walkouts from miners unhappy with poor and unsafe working conditions. Already limited supply is being limited further, while demand only grows stronger.
.
The platinum price for the past month in US Dollars per ounce.
.
The alternative is a switch from palladium to platinum, but palladium's gains have also rubbed off on platinum. The precious metal has gained $58 in value in the past week (5.99%) and an impressive $94 per ounce in the last month (10.08%). Platinum is currently at $1,026.50 per ounce, though it did peak at $1,041.00 per ounce last Thursday following the mining update from South Africa.
Platinum is also viable for catalytic converters as a pollution reducing component, but petrol/gasoline burns at a lower temperature than diesel. Using platinum is not as pollution-reducing at the lower burn, so scientists and engineers have a challenge ahead of them to make platinum more efficient.
Regardless, lack of supply of palladium – plus surging prices – could force car makers to switch back to platinum as the converter metal of choice for pollution reduction, despite its lower efficiency, but even if they choose to do so then it will still take 1-2 years to transition, meaning palladium could enjoy up to 24 months of dramatic price gains.