Pound falls to two-week low as GDP stumbles
By Michael Pinson, News Editor
13 Jan 2020
The Pound is once again under pressure following the release of poor figures for the final months of 2019.
In a worrying sign that recession is still a risk in 2020, the UK's economy shrank by 0.3% in November 2019, dragging the overall quarter to very slight growth of 0.1%. Manufacturing was largely to blame, with output falling by 1.7% - a very disappointing figure for that sector.
.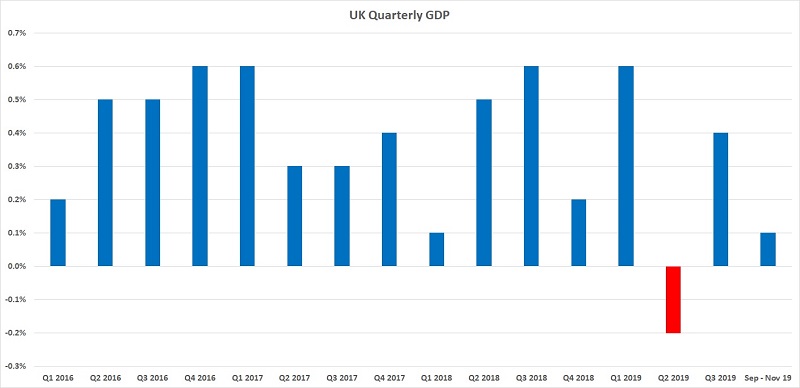 UK quarterly GDP growth 2016 - 2019
A poor report of retail sales also contributed to the weak figure. The British Retail Consortium reported that retail sales fell by 0.9% in November and December, the first time sales dropped since records began.
Brexit has been a key reason given for the weak figures; with uncertainty throughout 2019 leaving business in regulatory limbo, and fewer orders being placed as a result. There may be some hope of a recovery to come; December's election came too late to improve confidence in 2019, but political stability could help in 2020.
The uncertainty looks likely to continue however, as the transition period begins, and the UK and EU begin negotiations on their future trade relationship. With the new EU President calling a full trade deal 'impossible' within Boris Johnson's 11-month deadline, many fear that the Brexit woes plaguing the UK economy could continue throughout the year.
There is now growing speculation that the Bank of England may cut interest rates at the next meeting of its Monetary Policy Committee. Three of its members have already come forward in support of just such a move; the latest being policymaker Gertjan Vlieghe. This follows outgoing governor Mark Carney also hinting at being prepared to cut rates if the economy warranted it.
The combination of a weak economy and potential interest rate cuts has pushed the Pound down to $1.296 – it's lowest value since 27th December. This has pushed up gold domestically to £1,199.18 today, closing in on last year's all-time Sterling record of £1,282.69. At that time the Pound had fallen below $1.20, so the Pound is still stronger at the moment.
With the UK economy under pressure however, any possible interest rate cut, no-deal Brexit fears, and any more signs of contraction in GDP could be enough to push the Pound down further.