Gold nears seven-year Dollar high as Iran vows retaliation against USA
By Liam Sheasby, News Editor
06 Jan 2020
---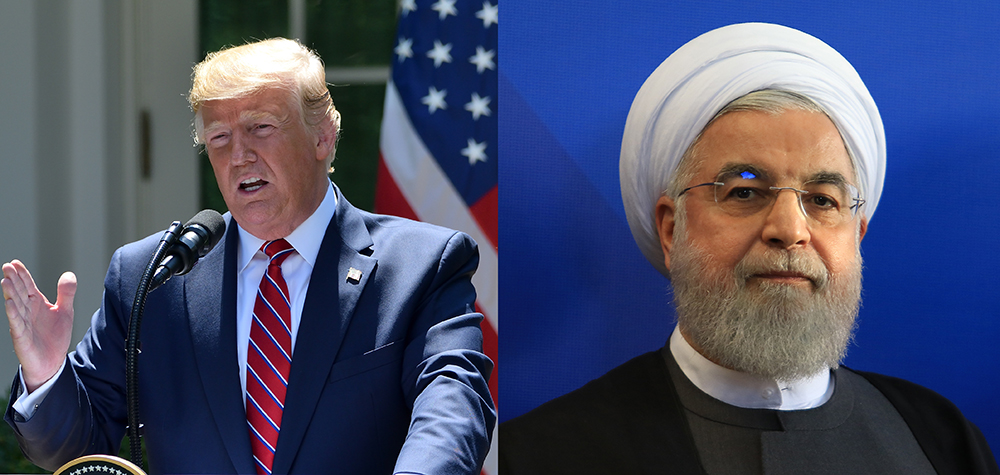 Presidents Trump and Rouhani - two of the key figures in the latest conflict between the US and Iran.
.
The price of gold reached a near seven-year high in US Dollars of $1,586.97 per ounce today, with tensions growing between the United States and Iran following last week's assassination of Iranian general Qasem Soleimani - effectively Iran's second-in-command.
Gold has risen by $65.55 per ounce or 4.34% in just the past week. Similar gains have been seen against the Euro, with gold achieving a new all-time high value of €1,408.62 per ounce against Europe's main currency. In the UK, gold gained 4.12%, pushing the price back above £1,200 per ounce today. Gold made significant gains in 2019, but analysts believe that gold's latest breakout could trigger the next leg of a market bull run, with safe haven demand at the forefront of investor thoughts.
Investors are bracing for a potential war in the Middle East, with Iran promising retaliation against the USA while also announcing its decision to abandon the 2015 nuclear treaty limiting uranium enrichment in the country (Editor's Note: The US already withdrew from this treaty in 2018, despite international opposition).
Neighbouring Iraq's parliament is requesting that American troops withdraw from their country after the assassination took place on their soil, and with Syria, Lebanon, and Turkey all angry at past treatment by the US, the Middle East could explode into a large-scale war unless America de-escalates tensions.
Aside gold, other safe havens such as the Japanese Yen and Swiss Franc have benefited from increased demand, reaching two-month and four-month highs respectively. Oil, a major export from Iran and the wider Middle East, has also seen its prices shoot up; peaking at $70.74 per barrel today in early trading.
A joint statement from UK Prime Minister Boris Johnson, German Chancellor Angela Merkel, and French President Emmanuel Macron called for calm in the region, a sentiment supported by Iraqi PM Adil Abdul-Mahdi. Given America's surprise actions against Soleimani, it's uncertain whether President Trump and his administration will listen, and if the President's recent tweets are anything to go by, de-escalation isn't the preferred option.
The United States just spent Two Trillion Dollars on Military Equipment. We are the biggest and by far the BEST in the World! If Iran attacks an American Base, or any American, we will be sending some of that brand new beautiful equipment their way...and without hesitation!

— Donald J. Trump (@realDonaldTrump) January 5, 2020
IRAN WILL NEVER HAVE A NUCLEAR WEAPON!

— Donald J. Trump (@realDonaldTrump) January 6, 2020
With North Korea once again threatening its own nuclear development if the US doesn't relax sanctions, America might want to avoid trying to fight on two fronts, else find itself stretched. Fellow NATO nations – such as the UK, France and Germany – will be reluctant to enter conflict at America's request after the difficulties encountered in the Iraq War, and such sizeable involvement could escalate this into a Third World War.