Gold hits all-time Sterling high as Italy latest to be hit by coronavirus
Gold reached a record Pound Sterling high of £1,308.73 per ounce yesterday following reports from the World Health Organisation of 367 new cases of the Covid-19 virus outside of China, and a total of 80,000 cases globally.
Concerns over the spread of the virus, and its subsequent impact on supply chains and economic output, helped gold also set yet another all-time gold price high in Euros of €1,560.81 per ounce, while the precious metal hit a seven-year high in US Dollars of $1,686.58.
The gold price has since fallen back slightly to £1,275 per ounce this morning, but the latest surge represents a 4.61% price increase this week.
.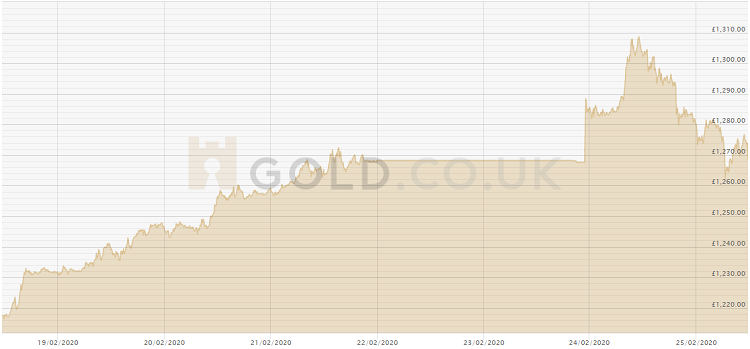 The price of gold this week in GBP, with Monday's new Sterling record.
.
---
Stock market struggles
New coronavirus cases outside of China have shaken investor confidence in markets all over the world, with Russ Mould, investment director at AJ Bell, telling the BBC that complacency is at the heart of the latest rush for safe haven assets. The outbreaks have centred around South Korea, Iran and Italy in particular.
The news that six people have died in northern Italy from the virus caused a sharp drop for Italy's FTSE MIB yesterday, with shares down 5.5% by the end of trading. Europe as a whole bore the brunt of a stock market rout, with the Eurozone STOXX 600 down 3.8%, Germany's DAX 30 down 4%, the CAC 30 in France down 4.1%, and Spain's IBEX down 4.2%.
In the UK, both the multinational-dominated FTSE 100 and the FTSE 250 suffered losses, with airlines and tourism-related companies hit the hardest. The FTSE 100 in particular closed 3.5% lower; its steepest decline in four years and a loss of £62 billion.
These losses followed on from the Asian market struggles, with South Korea's Kospi index hit the hardest at a 3.9% loss. Market traders ING believe that the impact of Covid-19 to tourism in Asia will be an estimated loss of $105-115 billion this year.
American markets also suffered, with the Dow Jones losing over 1,000 points, while the broader S&P 500 ended down 3.14%, and the Nasdaq ended down 4.25%. Oddly, the US has remained relatively confident in the face of the coronavirus, despite cases on American soil and its proximity to China and Japan compared to Europe. One factor that has hurt the US markets has been Bernie Sanders' latest success in the Democratic caucuses, winning by a landslide in Nevada and putting his socialist agenda at the front of the pack in the race to challenge President Trump later this year.
.
---
Safe haven demand
Gold's price increase is indicative of the rapid growth in demand, but the US Treasury also reported an all-time low yield of 1.83% on 30-year bonds on Monday; an indication that investors are looking for all manner of safe havens.
With bond yields decreasing the more demand there is, investors will quickly exhaust this option, which could help drive gold demand further and push prices even higher in the coming weeks – potentially passing the all-time Dollar record of $1,896.50 per ounce, set back in 2011.
The sell off has slowed this morning, but is by no means over. The FTSE 100 has hit a four-month low this morning, while European indexes are also trading lower. Italy in particular – as the main focus of attention – has lost 1.04% in value on top of yesterday's 5% loss. News of additional cases, outside of already quarantined zones is worrying investors further. A hotel in Tenerife has also been locked down after a guest tested positive for the virus, demonstrating how difficult containment will be at this point.
If cases spread from Italy to neighbouring countries like Germany and France, then the economic impact will almost certainly be enough to drive the Eurozone into recession. Investors will be closely watching for any further outbreak in cases, and any sign of the virus reaching pandemic levels will almost certainly cause the price rally to resume. With the previous record having lasted just five months, yesterdays could be even shorter-lived.