Pounds hits 2.5-year high on Brexit deal hopes
By Michael Pinson, News Editor
17 Dec 2020
Sterling has climbed to a 31-month high today as Brexit optimism continues to boost the UK currency. The Pound has reached a high of $1.36192 this afternoon against the US Dollar, the highest it has been since May 2018.
The rise comes as markets price-in a final-hour Brexit deal, on comments from EU President Ursula von der Leyen that there is "a narrow path" open for a deal to be made. EU negotiator Michel Barnier has also confirmed that good progress was being made in the latest round of talks.
.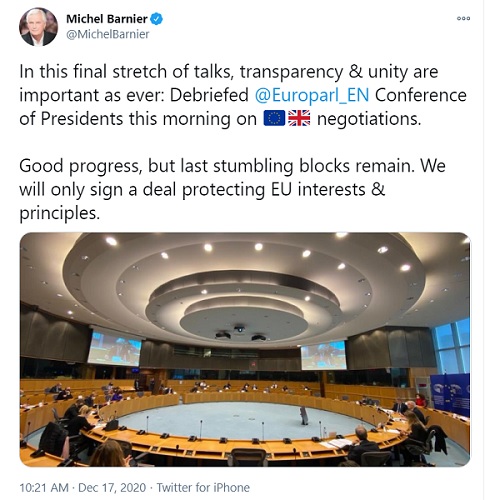 .
Sterling has been highly volatile in recent weeks, with each update on progress causing the Pound to rise or fall accordingly.
Some of the previous differences between the UK and EU have been resolved according to statements made by both sides, but access to UK waters for fishing still remain a sticking point, and could be enough to sink the rest of the deal in the coming days.
Boris Johnson meanwhile has told MPs that a deal is still possible, but warned that "significant gaps" still remain and that a no-deal Brexit was still very much a risk. UK parliament is due to enter the Christmas recess today, meaning MPs would have to be recalled in order to ratify a deal in time for the January 31st transition deadline.
Despite the narrow margin for a deal to be agreed, markets seem content to price the deal in for Sterling, pushing it up against the Dollar and Euro. Analysts have warned however that a no-deal result in the coming days will see Sterling plummet accordingly.
Sterling's gains have also come as the US Dollar continues to weaken, with the Dollar index also at a 2.5-year low. The US Federal Reserve confirmed in meetings this week that it will continue its quantitative easing programs (money-printing), pushing the Dollar down. The Senate is also closing in on its long-awaited stimulus bill, worth around $900 billion.
The weakening Dollar has helped boost a range of commodities, including precious metals. Gold is up over 1.5% in just over 24 hours, and is nearing $1,900 per ounce – almost a monthly high. Silver meanwhile has made much stronger gains, up 3.67% in the same period and close to $26 per ounce.
Due to the strength of Sterling, these gains have been muted slightly in GBP terms, but both metals are still up since Monday.
If a Brexit deal is confirmed then Sterling will likely climb higher, putting further pressure on precious metals. A no-deal Brexit however will likely see gold and silver soar as the Pound falls closer to parity with the Dollar.