IMF cuts growth forecast, warns central banks of 'limited ammunition' to combat recession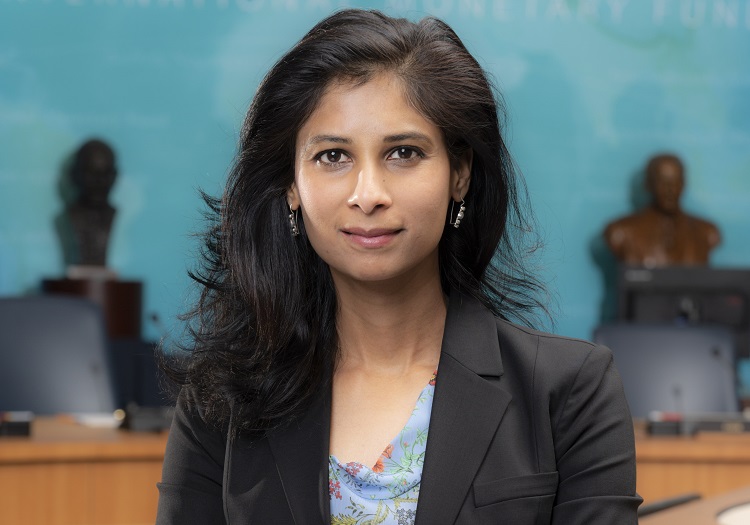 Gita Gopinath - Economic Counsellor and Director of Research Department. Image courtesy of the IMF.
The International Monetary Fund has issued a stark warning to central banks across the world that they need to be smarter with their policy decision else risk wasting the 'limited ammunition' they possess to stop recession taking hold.
In its bi-annual World Economic Outlook, the IMF lowered its global growth forecasts for 2019 to 3% (down from 3.6% and 3.3%) and for 2020 to 3.4% (also down from 3.6%).
Gita Gopinath – the IMF's economic counsellor and Director of Research Department – pointed to the issue of protectionism as the chief concern, speaking about "rising trade barriers; elevated uncertainty surrounding trade and geopolitics".
In the foreword of the WEO report, Gopinath said: "With central banks having to spend limited ammunition to offset policy mistakes, they may have little left when the economy is in a tougher spot".
Gopinath did praise central banks such as the ECB and the Federal Reserve for their interest cuts and stated how that had benefited the growth forecasts by around half a percent but stressed that governments needed to avoid reliance on central banks to manoeuvre them out of difficult economic situations.
The IMF isn't known for worrying needlessly; the organisation didn't believe a recession was imminent as of July 2008. At that point, the world economy had a stronger growth forecast than the present one. A degree of that could be attributed to greater pragmatism from the IMF 10 years on from the financial crash, but equally it could be a case that the world is in a riskier position than then too.
Despite the World Economic Outlook explaining how stimulus would combat protectionism, the report states that improved performance in struggling emerging nations would be the area where the greatest global economic improvement could be achieved.
Argentina is one of the nations mentioned. Inflation is around 54% in Argentina, with one Pound worth 74.27 Argentine Pesos currently. The IMF has been helping the South American nation with an emergency bailout worth $57 billion to avoid a default on debts the country owes, but the reality is that Argentina has been in a rut since the last crisis in 2001 and little has changed in that time, despite promises to do so from politicians.
Turkey is another country mentioned. The economy in Turkey has been stifled due to pressure from the United States and the US Dollar; some deliberate, some coincidental. Turkey has broken the sanctions placed by the US against Iran, which has in turn led to sanctions against them by the USA. US military withdrawal from the border region between Turkey and Syria has led to a rapid rise in clashes between Kurdish rebels, the extreme Arab militia, and both national armies, with Fox News reporting that remaining American forces waiting for extraction have come under attack from Turkish forces. It's little surprise then that President Trump tweeted the (now deleted) post below: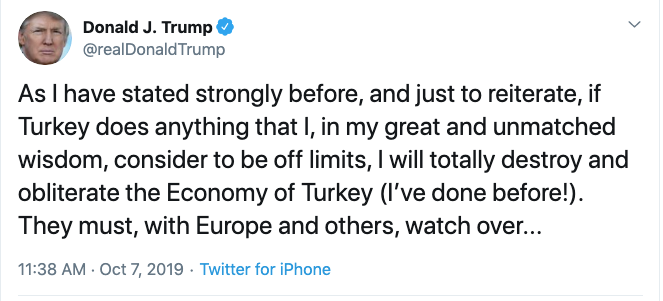 While change can be achieved in these regions, the current economic preference is protectionism, which itself is about selfishness. The US is tired from fighting the 'war on terror' for nearly two decades. The country is the strongest performing G7 nation with growth at 2.4%. No other G7 nation is expected to achieve above 2%. This then plays into the hands of President Trump: he's pulled out of foreign military intervention; he's engaged in a trade war to stop China taking advantage of US companies… While there are many things wrong with his behaviour and his leadership, many people will boil his tenure down to the main performance figures and read that America is doing well while pursuing this protectionist approach. There doesn't need to be correlation for people to believe there is.
The reality is that the global economy exists in a boom and bust cycle, and the world is on the downward slope. Protectionism is a historical reaction to poor economic performance; arguably a misguided one but one that plays well with the electorate, nonetheless. The IMF knows this, and so their warning is not so much 'protectionism is bad', rather it is a call for central banks to push back against governments and pressure them to make the changes needed to soften the blow of a downturn. It is this or waste the last-gasp central bank options needed to avert recession.