Central bank gold demand highest for Q1 since 2013
By Liam Sheasby, News Editor
02 May 2019
---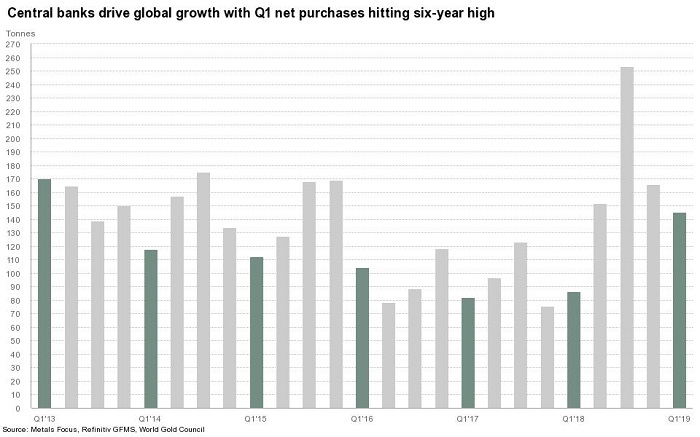 The latest figures from the World Gold Council reveal that central banks across the world bought approximately 145.5 tonnes of gold in the first quarter of this year.
The purchase total is the largest since 2013, and 68% higher than the same period last year. The WGC reports that the rolling four-quarter total (Q2 2018 – Q1 2019) is currently at a record high of 715.7 tonnes of gold.
The ongoing US/China trade war, combined with Brexit and the Eurozone slowdown, has seen the desire for safe haven assets rise, with physical gold a popular way to diversify investments. Global gold demand – across investment, jewellery, and industry – was up 7% year-on-year and grew to a total of 1,053.3 tonnes in the first three months.
Qatar, Colombia, and the United Arab Emirates (now free from VAT again) were notable buyers in Q1, while Ecuador added to its reserves for the first time since 2014.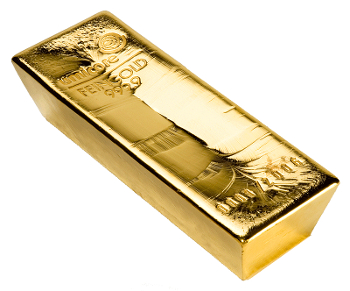 .
Demand for coins & bars rising:
It wasn't just the central banks keen on gold in Q1 either. Private investor demand was up by 12% globally. The UK in particular saw demand increase by 58% while Brexit fears still play on the minds of the public and businesses, and the United States experienced a 38% rise in demand as employment nears an all-time high and consumer spending is rising.
Some smaller nations, such as Iran and Turkey, saw their gold demand shoot up as their domestic currencies suffered under pressure from the US Dollar and Dollar-denominated debts, as well as ongoing sanction due to political differences with the US. Demand from jewellery notably dropped as demand for investment options rose.
India also displayed 4% improved demand year-on-year for gold coins and gold bars, thanks to the steadily growing strength of the Rupee. Demand was limited by much stronger gold jewellery sales than 2018, but gold demand in the country was very healthy regardless of the sector – so much so that Google Pay is now allowing Indians to pay for gold from MMTC-PAMP via its payment platform, alongside other payment providers including PayTM Gold, PhonePe, MobiKwik, and SafeGold.
.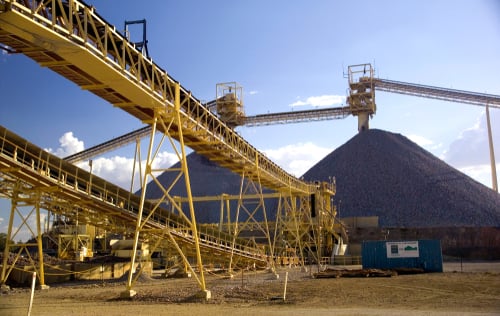 .
Mining and recycling:
The World Gold Council also released its gold production figures by country for 2018, with the top six (China, Australia, Russia, USA, Canada, Peru) unchanged from last year. Indonesia improved its output to 136.9 tonnes and jumped to seventh in the top 10 list, while South Africa's output dropped to 129.8 tonnes putting it in ninth, while Mexico's production also fell to 115.4 tonnes, putting it in tenth – still around 40 tonnes ahead of Brazil in 11th.
Australian mining output set an all-time record in 2018, breaking that of 1997 with 317 tonnes, but China's production fell slightly as pollution rules came in to effect, putting several smaller mines and refineries out of action for their inability or failure to comply.
A surprise figure was that gold recycling grew by 5%, with the UK leading the way with the largest growth in recycling for 2018.