Gold breaks through the $1,400 barrier as US-Iran tensions escalate
By Michael Pinson, News Editor
21 Jun 2019
Gold broke through the psychological barrier of $1,400 this morning, as hostilities between the United States and Iran escalated further. Reports from the US suggest that military strikes had been approved, before being called off at the last minute.
Late last night, reports emerged that President Donald Trump had approved retaliatory military strikes against a "handful" of targets in Iran, in response to a US drone being shot down earlier in the day. Senior White House officials say the operation was under way, with Iranian radars and missile batteries among the targets, before Trump gave the order to stand down.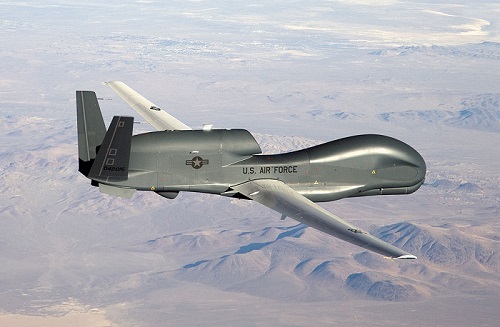 An RQ-4 Global Hawk; US Air Force unmanned surveillance drone, similar to the one shot down by Iran.
The news sent investors clamouring to gold, driving the price up to a high of $1,410.91. Once the order to stand down had been given, the price dropped slightly, and is currently sitting around $1,390. The price represents not just the highest in Dollars for almost six years (August 2013), but $1,400 was seen by many as a psychological barrier for some years. By passing it, investors have signalled a new appetite for gold that could indicate a new bullish sentiment for the precious metal.
The gain was matched in Sterling, and drove the price up to £1,108.80, a seven-year high not seen since February 2012.
We reported yesterday that a dovish Fed had weakened the Dollar, and the gold-price had already surged, but the threat of a new conflict in the Middle-East is only serving to further bolster gold. In the UK the Bank of England yesterday slashed growth forecasts for the coming months to 0, further increasing fears of a recession. With Boris Johnson storming into the final two in the Conservative leadership contest, doubling the votes of opponent Jeremy Hunt, no-deal Brexit is still of major concern to business and stock-markets.
Considering all the factors now weighing on the global economy, it is no surprise investors are turning to the safe-haven asset of gold and – with the psychological barrier broken – who knows how high the price could go?