US Mint suspends sales of American Eagle silver coins
By Michael Pinson, News Editor
26 Feb 2019
---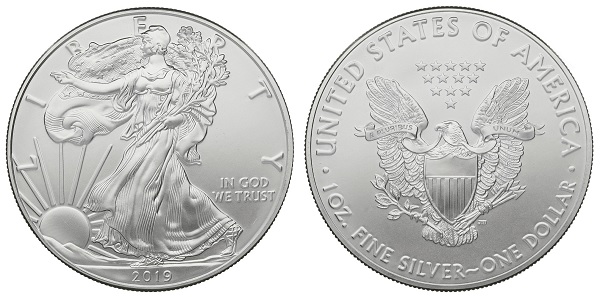 The new 2019 American Eagle Silver Bullion Coin
The US Mint has announced that it has temporarily suspended sales of all silver 1oz American Eagle coins, following an increase in sales for the start of the year.
In the past three months, silver has seen its price increase by over 10% in US Dollars, and with demand rising this trend could continue. The resulting surge in interest has seen the US Mint exhaust its supply of 2019 silver Eagles, as well as remaining stocks of 2018 coins.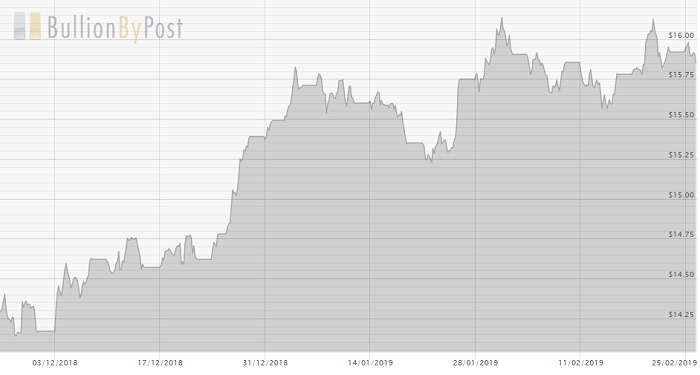 Chart: Silver price in US Dollars for the last three months
A statement from Jack A. Szczerban, Branch Chief of the Mint, was issued last Thursday – February 21. Szczerban told bullion dealers: "This is to inform you that we have temporarily sold out of our inventories of 2019-dated American Eagle Silver Bullion Coins. In addition, all remaining 2018-dated inventories have been sold too.
"The West Point Mint is busy producing additional 2019-dated American Eagle Silver Bullion Coins. We hope to be able to re-launch the 2019-dated coins in a few weeks."
This is not the first time the US Mint has had to suspend sales due to increased demand – the 2018 silver Eagle sold out in September last year, and before that there were several silver coins which sold out in 2015.
Silver supply is vulnerable at the moment following the bankruptcy of Republic Metals Corporation (RMC) late last year. As a result of their bullion leaving the supply chain, investors have moved to buying from US Mint-supplied dealers, leading to an increased premium for silver coins in response.
The US Mint reported that silver bullion performed poorly in 2018 with both the ounces sold, and the spot price, down from previous years. This year however has started strong, with sales bouncing back in January. More than six million coins have been sold so far in 2019, up on 2018's four million. The increased sales demand appears to have caught the Mint off-guard and it remains to be seen how quickly more coins can be minted to make up for the shortfall in supply.