Italy clashes with ECB over potential sale of national gold reserves
By Liam Sheasby, News Editor
15 Feb 2019
---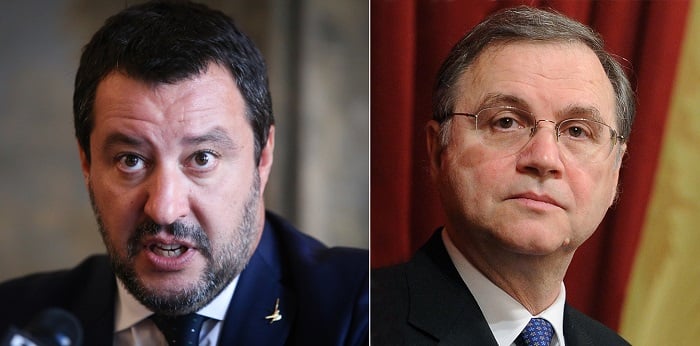 L-R: Matteo Salvini, leader of the League Party, who has clashed with Banca d'Italia governor and ECB official Ignazio Visco this week.
The Italian government has clashed with the European Central Bank this week after one of Italy's largest newspapers, La Stampa, published an article claiming that the coalition government was planning to sell off a large chunk of the country's gold bullion holdings.
La Stampa's article, available here, states that the Five Star Movement and the League wish to pass a law bringing ownership of Italy's gold back under the state's control, rather than that of the independent Central Bank, Banca d'Italia.
On Wednesday, the Governor of Banca d'Italia Ignazio Visco told the Reuters news agency that the ECB expects member states such as Italy to keep their gold reserves within the Central Bank, as part of the wider European system – the ESCB.
The accusation against the coalition government is that it plans to sell off around 500 – 600 tonnes of gold in order to cover the increased public spending that was promised in the party manifestos, as well as absorbing an increase in VAT that seems likely in the next Italian budget.
Claudio Borghi, economic spokesman for The League, was quick to downplay the suggestion of any untoward behaviour, arguing that the move was to protect the gold (presumably against the ECB). Borghi's proposal is a bill – an act of constitutional law – which he says is a guarantee to the public that the government will not sell reserves to fix public finances, and that any decision on such a sale (were it to happen) would require a parliamentary majority and perhaps even a referendum of public approval.
Matteo Salvini, leader of the League party and joint Deputy Prime Minister, wasn't so soft in his approach, telling reporters: "The gold is the property of the Italian people, not of anyone else".
La Stampa's article heavily relies on a blog post from the Five Star Movement's founder Beppe Grillo, who last year wrote about the nation's gold reserves and argued how Italy could take a leaf out of France's books, sell 500 – 600 tonnes of gold, and ease the strain on the public. Such a sale couldn't take place before the end of 2019, but it would only see Italy's reserves fall to around the same levels as France.
Italy is officially the third largest holder of gold bullion reserves with 2,451.8 tonnes; less than the USA and Germany but more than that of France and Russia. It is believed that half of Italy's gold is with the Banca d'Italia, while the majority remaining is in New York at the Federal Reserve Bank. Additional small holdings are reportedly with the Bank of England and the Bank for International Settlements in Switzerland.