UK Interest Rates on hold as economy slows down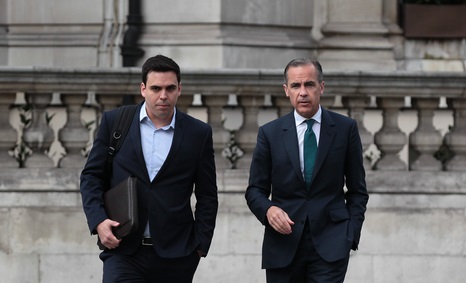 The Bank of England's chairman, Mark Carney (right).
The Bank of England chose to maintain the current 0.5% interest rate last week after a slowing down of the UK's economic growth, despite initial plans to raise them to 0.75% this month. The initial forecast from the Bank of England was 1.8% growth for the year, though this forecast has now been reduced to 1.4%.
The last rate rise came in November from 0.25% to 0.5% and coincided with a strong spell for the Pound. Since then figures have been released showing a disappointing drop to just 0.1% growth for the economy between January and March.
Economic growth has reduced all across Europe, with the Eurozone economy slowing down to just 0.4% growth for the first quarter of 2018. Some analysts have argued that the poor weather, dubbed 'the Beast from the East' is to blame, but the Bank of England described this as a "temporary soft patch" which had "few implications", while the Office for National Statistics said it had a "relatively small" impact on the UK economy when balanced against the increase in online retail sales and increased gas and electricity consumption in British homes.
Some economists blame the Bank of England for the UK's slowdown, including former BoE Monetary Policy Committee (MPC) member Andrew Sentance. Now with Pricewaterhouse Coopers, Mr Sentance took to Twitter to express his unhappiness with the BoE's current strategy:
The #MPC appears to have totally misunderstood recent disappointing UK economic performance. Monetary policy uncertainty and persistent low interest rates are having a negative impact on growth, not least by undermining sterling which squeezes consumers through higher inflation.

— Andrew Sentance (@asentance) May 10, 2018
Another economist, Shaun Richards, also criticised the Bank of England, suggesting that this was a U-Turn after months of pointing to a rate rise:
As if the Bank of England has any idea as to the "speed limit" of the UK economy! After all its Forward Guidance was for a rise in interest-rates today. https://t.co/jfsXMiYKMs

— Shaun Richards (@notayesmansecon) May 10, 2018
The minutes from the Bank of England's next MPC meeting will be published on Thursday June 20, while the next Inflation Report will come at the following minutes meeting on Thursday August 2.