Sotheby's 'Midas Touch' - auctioneers to sell gold for the first time
By Liam Sheasby, News Editor
19 Jul 2018
Auctioneers and specialty dealers Sotheby's have announced they are to hold a gold-only auction for the first time in their 274-year history. The brokers said that the rising demand for gold was the incentive for hosting such a lucrative event, which has been titled 'The Midas Touch'.
The auction will sell artefacts and furniture, including a gold ceremonial armchair from Napoleon's throne room at the Tuileries Palace and an 18-carat bust of supermodel Kate Moss. The sculpture was designed by Marc Quinn in 2010 and is called the 'Song of the Siren'. It weighs 8kg and has an approximate value of nearly £410,000.
.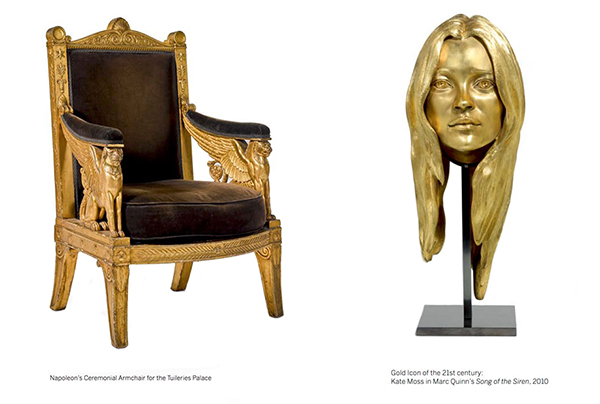 Photographs courtesy of Sotheby's. Images are Napoleon's armchair and the head of Kate Moss.
.
The news of increasing gold demand is a good sign for gold investors and collectors, especially at a time when gold prices are struggling against the US Dollar's strong performance. A month ago, gold was around £982.34 per ounce, but it is currently down at £936.62. While this devaluation isn't ideal for investors looking to make profit, it offers a window of opportunity for investors to buy in before prices rise back to the levels we've seen consistently this year.
The event page on the Sotheby's website describes the auction:
"Gold – the single metal that has seduced mankind for over six millennia – has compelled explorers, built empires and destroyed dynasties from Rome to the Amazon. It has mesmerized authors and enchanted artists both old and new for its rare material and cultural properties. A marker of wealth but also faith, a mythological but also practical material, gold has endured where other fashions faded. In a world that speaks over 6900 languages, the language of gold remains universal. Taking collectors on a journey through the great civilisations of the world, The Midas Touch pits artists next to artisans, sculptures next to sacred objects, contemporary painting next to centuries old texts on goldsmithing, to present an unrivalled history of nature's most bewitching creation."
The auction will be held by Sotheby's on Wednesday 17th October 2018 in London, with an additional online sale – also gold themed – running around the event from the 9th to 19th.