Arsenal FC teams up with crypto firm CashBet in world first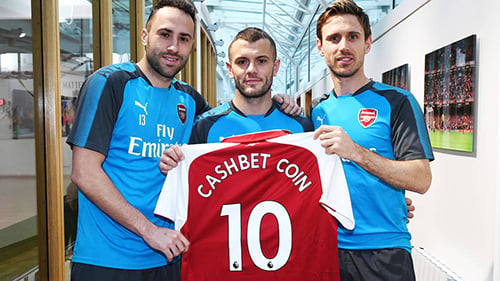 Photograph: Stuart MacFarlane/Arsenal Football Club
Arsenal Football Club has become the first major sporting team in the world to form a business partnership with a cryptocurrency* company, signing a deal with American firm CashBet.
The club, recently named the sixth richest in the world by Deloitte, announced the partnership with the Californian company on Wednesday, ahead of their Initial Coin Offering**.
CashBet is a mobile-first online gaming company, founded in Oakland, California in 2012. Their product, CashBet Coins, will be used as a token for iGaming sites and apps powered by CashBet.
In a statement on the club website, Vinai Venkatesham, Arsenal's chief commercial officer, said: "We are pleased to welcome CashBet Coin as our partner. We are looking forward to working with CashBet Coin as they launch their new cryptocurrency."
The value of the deal is undisclosed, but the US crypto firm aims to raise between $40m (£28m) and $70m from the sale of their coins as part of the ICO. To date, 430 million coins have been released, priced at 50 US cents per coin. The coins can only be used on CashBet's website and app and have to be purchased by accredited investors.
Dr. Mike Reaves, CEO and founder of CashBet, said: "We are delighted to do so in partnership with one of world football's true giants in Arsenal, enabling us to build our brand and engage this audience in a meaningful way."
The deal is a step forward for the legitimisation of cryptocurrencies in the financial industry, despite warnings issued in recent months from financial regulators. Last September, The Guardian reported a warning from the Financial Conduct Authority (FCA) about the danger of purchasing cryptocurrencies. The FCA has not commented on Arsenal's deal with CashBet but did say the organisation would be investigating the recent and rapid ICO developments.
---
*Cryptocurrency is a peer-to-peer currency, allowing users to cut out banks and brokers acting as a middleman and deal with each other directly. The value of cryptocurrencies rises or falls depending on demand. Transactions are generally transparent and publicly logged, added onto a blockchain (digital ledger), but some currencies are totally anonymous. The prefix 'crypto' is a nod to cryptography and coding.

---
**An ICO or Initial Coin Offering is an event where an issuing company, in this case CashBet, accepts a cryptocurrency (Bitcoin, Etherium etc) in exchange for tokens. These tokens are the CashBet Coins, and give the owner either a share in the company or a pre-payment voucher, depending on the terms of the ICO.
---