Pound and FTSE down as May delays tomorrow's Brexit deal vote
By Liam Sheasby, News Editor
10 Dec 2018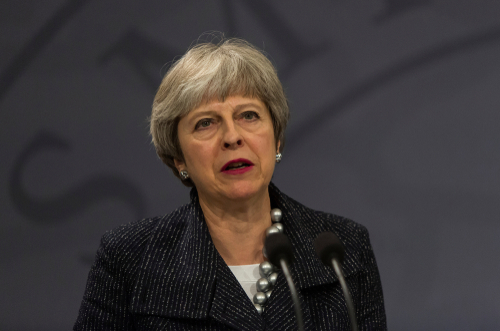 Prime Minister Theresa May has abandoned plans to hold a Commons vote tomorrow evening at 7pm on her Brexit deal with the EU, with insiders and critics all suggesting the deal would likely be defeated – a fourth defeat for the PM in less than two weeks.
In response to the announcement, the Pound dropped to €1.1078 and $1.264 – the lowest against the US Dollar since June 2017, as shown in the graph below:
Sterling is on the slide again. Down below $1.27. Lowest for 18 months or so. pic.twitter.com/CWKIZtnU08

— Ed Conway (@EdConwaySky) December 10, 2018
The FTSE 250 has also fallen just over 1% today in response, with house builders bearing the brunt of the investor concerns; Crest Nicholson down 7%, Barratt down 3%, and Taylor Wimpey down 2%. The market dip comes hours after new data from the Office for National Statistics (ONS) reported the UK's trade deficit had widened in Q3 by £3.1 billion, pushing it up to £10.3 billion as imports rose and exports shrank.
The UK economy only grew by 0.1% in October due to the pressures of Brexit and an unreliable Pound Sterling, with three-month growth at 0.4%. Suren Thiru, the Head of Economics at the British Chambers of Commerce (BCC), said: "The widening in the UK's trade deficit is a concern and reflects a sharp rise in goods imports. Trading conditions for UK exporters are deteriorating amid moderating global growth and uncertainty over Brexit.
"Businesses continue to report that the persistent weakness in sterling is hurting as much as its helping, with the weakening currency raising input costs."
0.4% growth in #GDP in the 3-months to October, down from 0.6% in the 3-months to September https://t.co/TqaDo6UNae pic.twitter.com/LdKFpJAHU7

— ONS (@ONS) December 10, 2018
The FTSE 100 is faring slightly better thanks to the level of international investing, which benefits from a weak Pound through the exchange rate, but the concern is enough to have pushed the gold price up to £984 per ounce so far this afternoon – a gain of nearly £3 per ounce today and over £14 per ounce within the last seven days.
A vintage hour of British politics, that.
10.45 news leaks that May will pull the vote at 11.30
11.00 Westminster evacuated by fire alarm
11.07 Delayed PM's media briefing begins. Journos told "vote is going ahead as planned."
11.21 Briefing ends.
11.30 Vote cancelled.

— Tom Peck (@tompeck) December 10, 2018
The news was leaked this morning by 'government insiders' but was initially denied by the Prime Minister's briefing team. This denial was, evidently, short-lived. Critics have been quick to jump on Theresa May for her decision. Guardian columnist Owen Jones had this to say:
Theresa May pulling the vote on the deal she said would definitely 100% go ahead, days after her government was found in contempt of Parliament, underlines we no longer have any kind of functioning government whatsoever. They are in office but they are not in power.

— Owen Jones🌹 (@OwenJones84) December 10, 2018
Over at The Telegraph, deputy editor Steven Swinford reported comments from Conservative MP Jacob Rees-Mogg (who publicly initiated the No Confidence call against the PM):
Jacob Rees-Mogg on Brexit vote delay:

'The whole handling of this is incompetent.

'The negotiations have been incompetent, the parliamentary handling incompetent, the press briefings incompetent.

'I said a fortnight ago I thought she should go and this proves the point.'

— Steven Swinford (@Steven_Swinford) December 10, 2018
The concern for the Prime Minister now is whether she merely delays the vote or scraps it altogether. James Duddridge, a Conservative MP, took to Twitter to argue that the House will have to vote to pull a vote, and that he will oppose. Several other Tory MPs are also being reported as against withdrawing the vote in Parliament.
The latter option thus seems highly unlikely; not because Theresa May doesn't want to get rid of the vote but because she might not have the numbers to do so in the Commons.
OK this is now looking like a serious problem for the PM. @andreajenkyns tells me she will also vote AGAINST a delay. This could actually be far more dangerous than the defeat she faced tomorrow. If a PM can't even delay a vote, can she govern?

— Paul Brand (@PaulBrandITV) December 10, 2018
There is expected to be a series of speeches made in the House of Commons today starting at 3:30pm with the Prime Minister, before a business statement by Andrea Leadsom (likely to cover today's ONS data) and then a statement from Stephen Barclay, the new Secretary of State for Exiting the European Union, on the European Courts of Justice's earlier ruling on Article 50.