'One of a kind' gold model car sells at auction for $75,000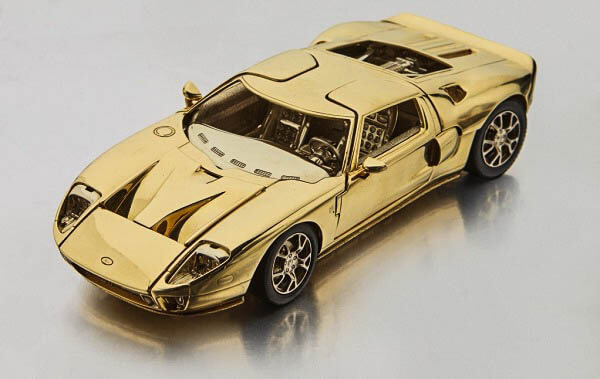 Photographs courtesy of Sotheby's website. Link available here.
A unique, scale model Ford GT has sold for $75,000 (£58,853.25) at auction with Sotheby's today. The 18-carat replica smashed its initial estimate pricing of $30,000 - $40,000,
According to Sotheby's listing, the gold model weighs 948 dwt approximately. This weight is pennyweight (dwt referring to the Greek 'Denarius') making it the equivalent of 1.474kg. Based on the current spot price, the sale price for 1.4kg of 18 carat gold is around $41,470 (£32,605), though added value was almost inevitable based on the fact that this is a unique collectable.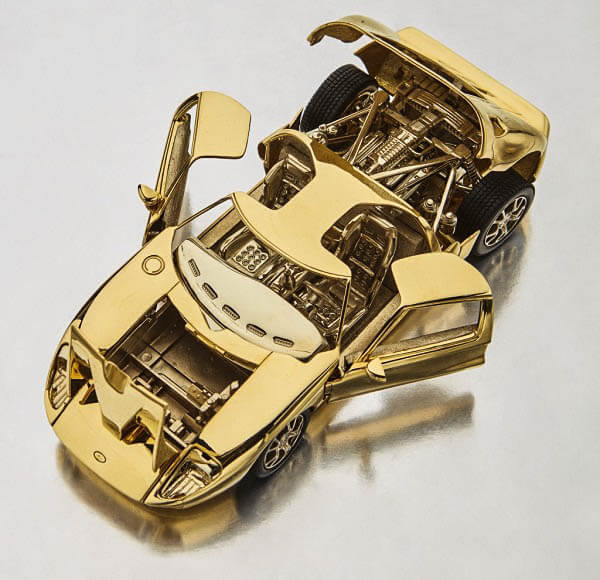 The model Ford is 7.14 inches by 3.14 inches (1/25 scale) and sports a two-toned finish and functioning parts, including doors, bonnet, and the boot/engine section. Even the tyres, which are plastic, have accurate Ford GT treads. It is said to have been commissioned by a descendent of Sir Henry Ford in 2002 to mark 100 years of Ford production. It was made by Ahee Jewelers of Grosse Point, Michigan.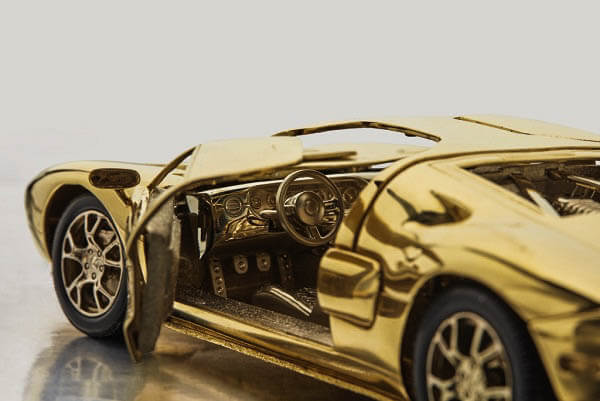 The Ford GT40 was a hugely popular high-performance car in the 1960s. Its inspiration was British, with major design elements inspired by the Lola Mk6 GT, but it surpassed the Lola and achieved American domination at Le Mans between 1966 and 1969. In honour of these achievements, Ford brought the car back in the mid-2000s and again in 2017.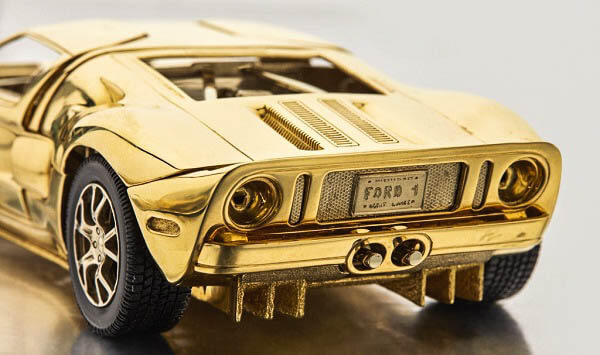 For the estimated £31,800 ($40,475.52) you could buy a Metalor 1kg gold bar (24 carat) or you could even go for a real full-sized car, like an Audi A5 or a Range Rover Sport, but for the full $75,000 you could hire a famous band for a night, like the Arctic Monkeys, or rent a private Boeing Business Jet for return trip for up to 14 people.