"A new history starts now" - North and South Korea hold historic peace talks
By Liam Sheasby, News Editor
27 Apr 2018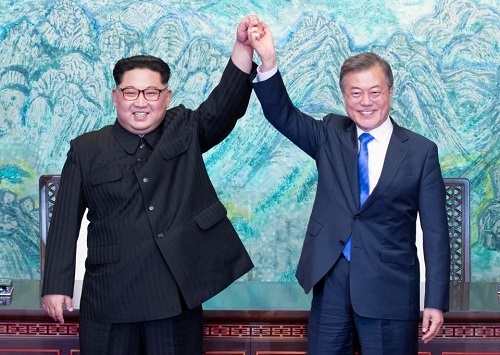 Presidents Kim Jong-un and Moon Jae-in after signing the new peace treaty.
North Korea and South Korea met earlier today to hold an inter-Korean summit for the first time in over a decade; a meeting which has been heralded as a significant step in bringing about peace in the Korean Peninsula.
The talks heavily focussed on bringing a formal end to the war after six decades of hostility, with President Kim and President Moon both signing the Panmunjom Declaration for Peace, Prosperity and Unification of the Korean Peninsula during the summit.
The peace treaty agrees to reduce arms, cease border propaganda, and work towards the "complete denuclearization of the Korean Peninsula". Upon signing the declaration President Kim wrote "A new history starts now. An age of peace".
This is the moment Moon Jae-in and Kim Jong Un signed an agreement pledging to end the Korean War https://t.co/gCVhmxszrO pic.twitter.com/jfHF0rfKuX

— CNN International (@cnni) April 27, 2018
The meeting between President Kim Jong-un of North Korea and President Moon Jae-in of South Korea was their first, with talks throughout the day held at the Peace House in Panmunjom, a military compound in the demilitarised zone (DMZ) between the two Koreas.
Full text of today's Panmunjom Declaration between Moon and Kim #InterKoreaSummit pic.twitter.com/uFQ8EjZ2gi

— Hawon Jung (@allyjung) April 27, 2018
Meetings between officials were broken up by a one on one walkabout for the two leaders, the planting of a peace tree, and lunch, before a televised 30-minute discussion later in the day aired in both nations. After their TV discussion the pair stepped outside into the DMZ to pose for photographs, with Kim Jong-un stepping into South Korea before inviting President Moon over the line into North Korea – a seemingly unscripted part of the proceedings. It is the first time that leaders of either nation have stepped into the other since the Korean War ended in 1953.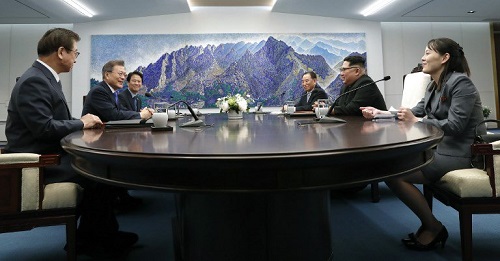 North and South Korean officials during the half-hour televised discussion about the proposed peace deal.
As part of the finalising process for the war, a joint liaison office will be established to reunite separated families across the regions, while the two countries will unite and jointly participate in international sporting events to further promote peace between the two countries.
Both nations have agreed to work closer with China and the US, while Japan's Prime Minister Abe welcomed the talks and Russia offered its support in facilitating connections for transport and utilities like gas and electricity between the two nations.
Other world leaders turned to Twitter to offer their support for the peace talks, including Charles Michel, Prime Minister of Belgium, and Donald Trump, the US President.
After 65 years our world can become a safer place, bringing peace and stability to the Korean peninsula.

We support North and South Korea's wish to sign a peace treaty formally ending the Korean War. #KoreaSummit #Peace

— Charles Michel (@CharlesMichel) April 27, 2018
After a furious year of missile launches and Nuclear testing, a historic meeting between North and South Korea is now taking place. Good things are happening, but only time will tell!

— Donald J. Trump (@realDonaldTrump) April 27, 2018
Speaking to CNN, Vipin Narang – a professor of political science at MIT – was more cautious about the talks, saying: "North Korea has long committed to 'denuclearization of the Korean Peninsula,' which is not the same thing as unilateral disarmament. Reaffirming this language is not new and should be treated with caution, historic summit notwithstanding. It can be interpreted differently by different parties, by design. Until there is evidence of an agreed upon definition and concrete steps of what 'denuclearization of the Korean Peninsula,' there is a lot of wiggle room -- both for a potential meaningful bargain short of disarmament, but also for conflict if the North Korean definition does not come close to resembling the US'."
Officials from both sides have confirmed that President Moon will travel to Pyongyang later this year, while further high-level talks will take place on June 15th.