Syria and the Spectre of War
By Liam Sheasby, News Editor
13 Apr 2018
Tensions are high between the UK, US and Russia following the alleged chemical attack in the Syrian city of Douma, with military forces on high alert and Moscow's envoy to the UN conceding that they "cannot exclude" the possibility of war between Russia and the US.
The attack is said to have taken place last Saturday (April 7th), with activists and medics saying 'dozens' of people died – estimated anywhere up to 75 in total – following a bombing raid, while the World Health Organisation estimates that up to 500 people, including children, were potentially exposed to toxic chemicals known for their ability to cause respiratory failure and/or nervous system damage – information that ties in with a statement from US officials stating chlorine and an unspecified nerve agent were detected following tests performed on the victims.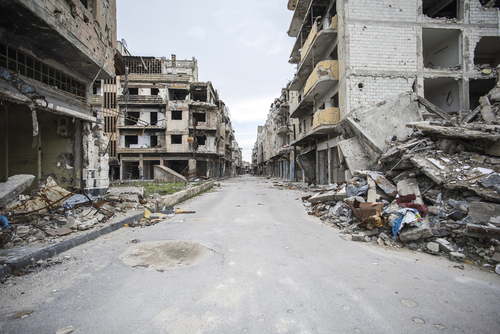 The city of Homs and the devastation caused by the civil war in Syria.
Douma was the last major rebel stronghold near the Syrian capital Damascus, and the city is now under Russian military police control following talks between the rebel leaders and Russian officials. Over 400,000 people have died in Syria since the civil war began in 2011, with millions of civilians displaced from their homes.
President Assad has denied the chemical attack took place, with Russia suggesting the reports were staged by the rebels and designed to justify western intervention and Iran outright rejecting the claims. The International Organisation for the Prohibition of Chemical Weapons (OPCW) is investigating and has sent monitors sent to Douma, while the United Nations security council is meeting today to discuss the situation.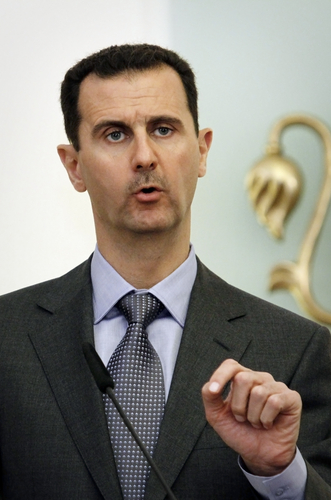 Syria's President Bashar al-Assad
Government officials in the UK, US and France have been in regular contact for the past 48 hours as the three nations discuss what action can be taken against Syria and President Assad, but the Russian Foreign Minister, Sergei Lavrov, said he hoped there would be no repeat of the experience of Libya and Iraq in the Syria conflict – a hope that seems short lived after President Trump tweeted a direct threat to Russia:
Russia vows to shoot down any and all missiles fired at Syria. Get ready Russia, because they will be coming, nice and new and "smart!" You shouldn't be partners with a Gas Killing Animal who kills his people and enjoys it!

— Donald J. Trump (@realDonaldTrump) April 11, 2018
Prime Minister Theresa May has had several calls with Mr Trump as well as lengthy cabinet meetings, with ministers unanimously agreeing on the need for military action. Training exercises are already under way at RAF Akrotiri in Cyprus where Britain has typhoon and tornado jets on standby, and the latest reports suggest the Royal Navy has been instructed to move its submarines further east in the Mediterranean ready for tomahawk missile launches.
France already has over 1000 ground troops in the region following the conflict with ISIS, while French warplanes have bases in neighbouring Jordan and the UAE and the US air force are based in Qatar. A spokeswoman for the Russian foreign ministry said that Russia will protect its people on the ground if the US and its allies launch missile strikes.
Image courtesy of Google Maps. Syria and its neighbouring nations in the Middle East.
Another conflict is also brewing behind the scenes; Israel vs Iran. Israel is often at the centre of conflict in the region and is contesting what it calls growing Iranian influence in Syria, fearing the damaged nation effectively becoming a forward base. Given the staunch support Israel has from the US, and the US from the UK, it's not far-fetched to imagine that even if talks resolve the current crisis, further conflict will spark new controversy.
War & Gold:
Any conflict in Syria would be between seven nations. Such a large number of nations involved scares investors and markets worldwide. The initial response to the threat of military intervention was rise in the gold price by around £15 to £20 per ounce in a matter of hours, showing just how quickly gold can rise in the event of war.
President Trump has subsequently tweeted to "de-escalate" the situation:
Never said when an attack on Syria would take place. Could be very soon or not so soon at all! In any event, the United States, under my Administration, has done a great job of ridding the region of ISIS. Where is our "Thank you America?"

— Donald J. Trump (@realDonaldTrump) April 12, 2018
The message was a boost to the US Dollar and Wall Street (up by 1.5%) and pulled gold back down to its starting point around £940 per ounce. If conflict does happen then, like the North Korea missile tests, we could expect gold prices to go up quite swiftly, but at present it's all very uncertain. The feeling is that everyone is posturing. Until anything substantial happens gold will stay put, but as we've seen, as soon as something does happen then hold on tight because gold is going up and up.