Palladium price rises as US impose sanctions on Russia
By Liam Sheasby, News Editor
13 Apr 2018
The price of an ounce of palladium has risen by more than 5% in the past week following US sanctions against Russia and one of the leading palladium producers in the world, and there are now fears that supply could be hit as the US/China trade war escalates.
Oleg Deripaska, the owner of United Co. Rusal, was added to the US sanctions blacklist earlier this week. His company is the largest aluminium producer outside of China and owns a 28% stake in Norilsk Nickel, a nickel and palladium mining venture.
In a statement from Commerzbank on Monday, their spokesperson said: "What participants on the metal markets are far more concerned about is that the sanctions could also result in supply disruptions."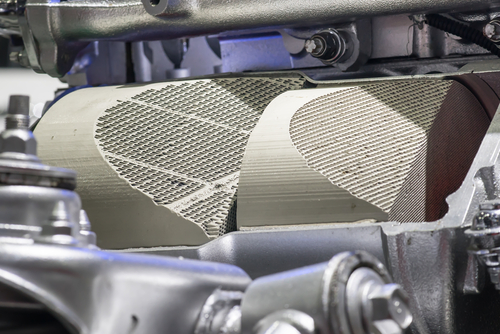 An example of a catalytic converter used to reduce pollution emissions from vehicles
Russia is the top palladium producer in the world and the news of sanctions saw the price for palladium rise by £33.80 (5.2%) in the last seven days. The shift in price has been attributed to speculative buying, though experts aren't expecting an immediate threat to supply.
Palladium had a stellar performance in 2017 as it overtook platinum as the star precious metal. A drop in demand for diesel cars meant that palladium, used in petrol car catalytic converters, replaced platinum demand, used in diesel car converters. Such was the swing in palladium's favour that the metal rose a remarkable 56% in value.
The metal peaked in January 2018 at £826.38 an ounce, but has since fallen back by 20%, with analysts unsure if this is the beginning of a bearish trend for palladium or simply a market correction against overvaluation driven by a surge in demand. Palladium, like platinum, has seen a market deficit for the last decade and this is set to continue into 2018. Analysts for the GFMS (Thomson Reuters) predict a 1.5 million ounce deficit this year.
The implication of such a deficit is that palladium prices have a floor to them that they simply can't fall below due to necessity of supply, and to date even the lowest price per ounce in recent months of £639.71 per ounce is still 24% above the 10 year average of £483.13. In fact, over the last decade the price of palladium has risen by 190%, or £440.10 per ounce – nearly an increase equal to the average figure.